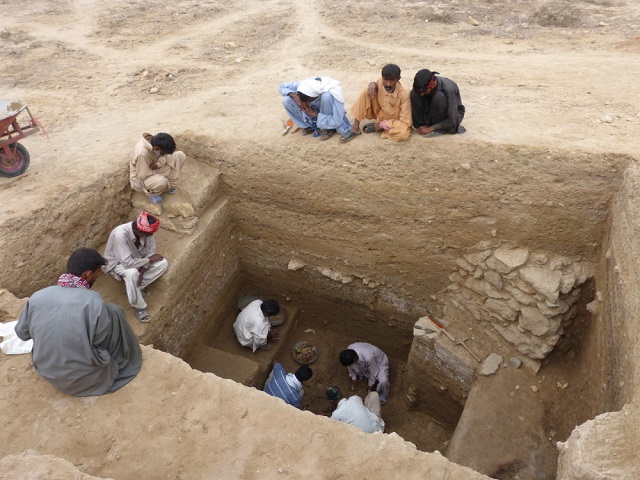 ---
KARACHI: After a lapse of 60 years, the Culture, Tourism and Antiquities department with the help of Italian Archaeological experts has excavated around 12,000 pieces of pottery and artefacts from Banbhore, an ancient city of Sindh dating to first century BC.

According to experts, terracotta pottery fragments, plain and painted pottery, molded pottery, rims, lids, complete or semi complete objects (12,500), glazed and grey pottery fragment, coins, copper objects, beads, bones, ivory, stones, iron object/pieces, glass fragments, animal figurines and one horn have been found.

The site, located at the mouth of Indus Delta in Thatta district, is hardly 60km east of Karachi.

According to archaeology experts, the history of Banbhore dates back to Scytho-Parthian era before Muslims. Some historians call it Debal, where Arab General Muhammad Bin Qasim arrived to defeat local ruler Raja Dahir in seventh century.

Briefing about the recent excavation, Sindh Culture Minister Sardar Shah said: "In 1956, the excavation was started on this site by Dr FA Khan, since no one has worked on it. We with the help of Italian archaeological mission led by Valeria Piacentini started work on December 20 and ended it on February 8. We have found huge artefacts and will determine their period too."

Disclosing the findings of the excavation, the minister said, "Excavations have unearthed an interesting 'quarter' with related architectonic structures including a 'palace', small houses, rooms, streets, artefacts and warehouses."

He further said, "We have seen intense activity both agricultural bases on irrigation, canals and barrages as well as craftsmanship in the north-eastern area outside of the walls."

Mound Dillu Roy's excavation commences

According to officials in archaeology department, after cleaning the trench, no visible artefact was found up to 14 cm depth. The soil was lose, grey, and light brown color all around trenches from 25cm to 50cm depth. Mix pottery fragments were found on Eastern side of the wall, along with ashes, coal, and large quantity of bones, sea shall, and ivory pieces.

"In 70 cm depth of South Eastern side of the trench of this site we found circular shape stones that apparently looked like a well, but that was fallen/ collapsed stones of the wall. At 83 cm depth huge amount of pot shreds, coins, coin molds, grey and glazed pottery were found.(Could be a factory of Terracotta pottery or coin molding place)," DG Antiquities Manzoor Kanasro said.

Another official in culture department, who was part of earlier survey of this town requesting not be named said, "A human and natural ravages and the devastating violence of rainfalls has largely upset the higher levels making it difficult to trace a proper stratigraphy and even more difficult to give a precise dating of the decline and end of the town", adding that the town was said to be built in different periods from first century to 13th century.

Archaeologist and former director of archaeology department, Qasim Ali Qasim told The Express Tribune that the site was apparently inhabited all over the area encircled by the ramparts at least since the 1st century.

"The archaeological evidence reveal that Banbhore was not only an important harbour-town and market, but also a highly significant centre of production of luxury goods to be exported all along the main sea and land routes," Qasim said.

"Through the structure it looks right site of the Banbhore Hindus were settled and left side we can find the remains of Muslim period and there is a wall between them.  There is dire need to conduct proper search to determine the period and significance of artefacts found from there," he said.
COMMENTS (1)
Comments are moderated and generally will be posted if they are on-topic and not abusive.
For more information, please see our Comments FAQ