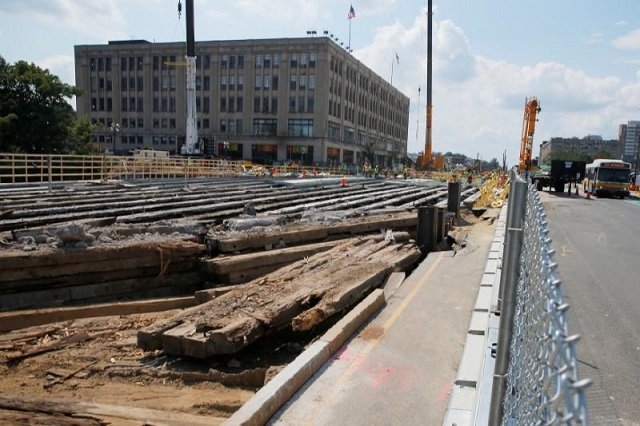 ---
WASHINGTON DC: Donald Trump's administration will sketch out more details of its plan to invest in America's creaking infrastructure Monday, hoping it can leverage up to $1.5 trillion for the cause.

Senior White House officials said the president's budget, due to be released on Monday, will include $200 billion earmarked for projects to fix roads, bridges and other crucial infrastructure.

UK gives $50 million to AIIB

Under the proposals, states and private investors would put up the remaining $1.3 trillion.

Trump, playing up his background in construction, had made fixing US infrastructure a core campaign pledge and already announced the $1.5 trillion plan in his State of the Union address last month.

On Monday, the administration will put more flesh on the bones, including ideas for cutting the length of the permitting process to two years.

"Infrastructure is obviously a critical component to the functioning of our economy, a lot of American success is a result of the quality of the infrastructure we have had historically," said a senior White House official.

"But the current system is fundamentally broken."

"We are under-investing in our infrastructure and we have a permitting process that takes so long that even when funds are adequate it can take a decade to build critical infrastructure."

It will now be up to Congress to discuss the proposal and Trump will host lawmakers from both parties at the White House on Wednesday to make his case.

He will likely face fierce questions about what the administration is willing to fund, including questions about whether any money will go to so-called climate-proofing.

The Trump administration has questioned global warming and the president has called it a hoax.

Fiscal hawks are likely to question where the money will come from, so soon after tax and congressional spending deals that are expected to explode the deficit.

Trump tweets are not considered official US policy: PM Abbasi

The Committee for a Responsible Federal Budget has estimated that the spending plan passed by Congress last week will alone increase the deficit by $420 billion over a decade.

The Trump administration says the funding will come from cuts in other programs, which will be outlined in his budget proposal.

White House officials acknowledge the plan is just the opening salvo in the back-and-forth with Congress.

Experts have warned that poor roads, rail and air traffic systems are costing the US economy a fortune.

According to civil engineer Henry Petroski, traffic congestion alone costs the United States $120 billion per year.