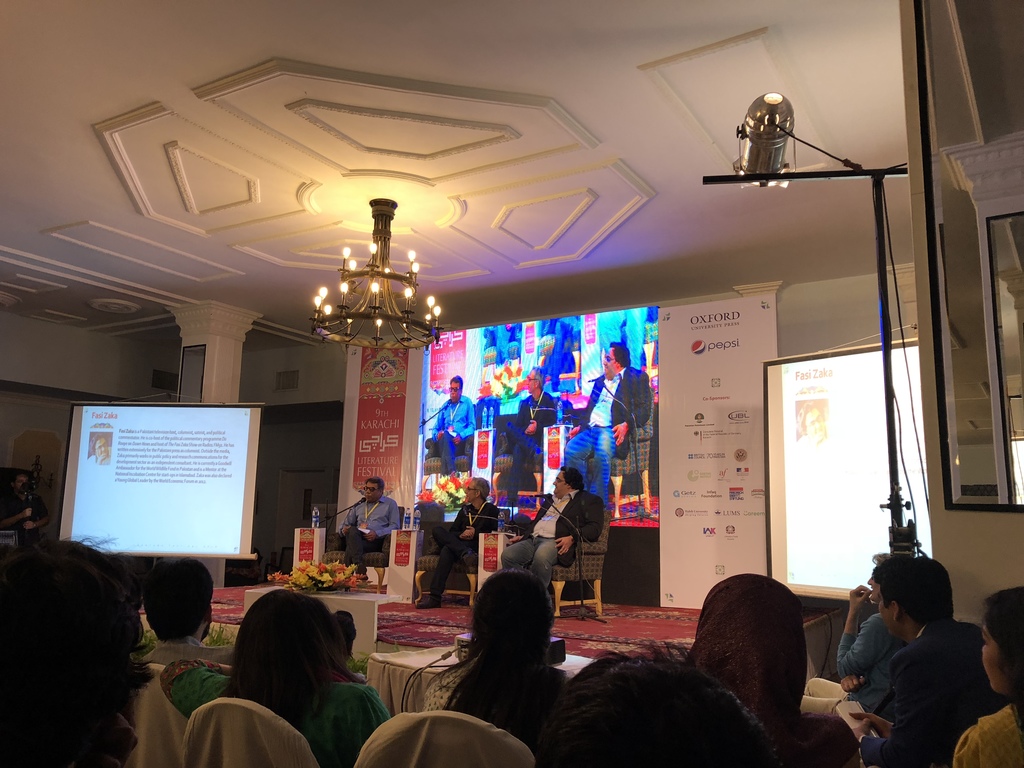 ---
KARACHI: We are living in a time when reality seems to be in competition with satire - decimating the benchmark of what we hold true.


In a world of Trump and the Onion, it is tough to distinguish between truth and satire – sometime even a disclaimer fails to do the job. In a bid to find validation for their theories, people are open to believing everything they see and hear. The number of likes has become equivalent to proof of authenticity.




#MeToo talk pushes aside issue of harassment




So how does one follow? A panel comprising Zarrar Khuhro and Fasi Zaka discussed the phenomena in a session titled 'Reality Catches up with Satire', moderated by Nadeem Farooq Paracha at the ninth Karachi Literature Festival on Saturday.




"It's impossible to keep up, reality has taken over satire," Khuhro said. "We have to lower our standards of comedy to keep up with reality."




When an audience member recalled the statement of Pakistan Peoples Party Co-Chairperson Asif Ali Zardari vowing to bring back stolen money, Zarrar quipped, "This is genius! How do you top that?"




Highlighting a major problem with satire today, Zaka said we are now punching down at victims instead of punching up at the powerful. He explained that in the 1980s the target was General Ziaul Haq but today it was protesters at Faizabad.




"We have a base of people who largely agree with us," he said. "We believe we are converting the other side but you cannot convert people by making fun of them."




Paracha wondered whether gullibility was becoming the norm today. Khuhro's opinion seemed to differ as he pointed out that opinions which were once confined to drawing rooms have been provided a public platform through social media. "People have always been the same; we were never patient."




He argued that it was not an anomaly to say or do things that made little sense when you are young. The only difference is that there is no permanent record of us being 'stupid' on a public platform, he said.




Universities – a breeding ground for terrorists?




Speaking to The Express Tribune about the repercussions of using sarcasm to weigh in on issues, Khuhro said, "The speed at which your views are disseminated is much faster now – an ordinary person using Twitter can potentially reach an audience of millions, hence the backlash is magnified."




The creeping self-censorship in the age of outrage has curtailed our ability to take on the ironies of today. Zaka believes most satirists are not doing their job to the fullest. "We have internalised some of the censorship rules," he told The Express Tribune. "The satire we do is punching at the sanctioned people or institutions that we can make fun of, which usually serves a purpose of other institutions who are actually acting in fairly undemocratic fashion."




Zaka was of the view that it was not the thought of offending the masses that was responsible for self-censorship, rather it was 'the systematic state actions' against those using satire to depict reality that sent a strong signal. "You may like it or not but it [the work] was nowhere in the realm of treason," he said.



COMMENTS
Comments are moderated and generally will be posted if they are on-topic and not abusive.
For more information, please see our Comments FAQ