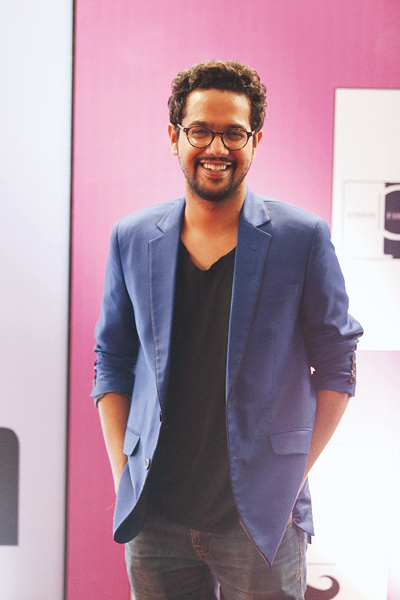 ---
KARACHI: Comedian and satirist Ali Gul Pir's latest offering highlights an endless debate that has been plaguing this country (and even the world). The song, titled De Maar Saaray Chaar pits liberals vs conservatives, and in fact, mocks them both for their incapability to co-exist without throwing daggers at each other.

De Maar Saaray Chaar (don't hold back) shows Pir as the representative of both groups – liberals as well as the 'fundos', and both keep blaming each other for the country's downfall. It may not have the catchy, impressionable quality of Wadere Ka Beta, the track that launched him into stardom, but it surely nails the truth of the scenario.

Ali Gul Pir takes on Modi in latest video

The track works on multiple levels, making references to current affairs, social media viral topics and the common perception of each group from the other's perspective. But it's the balance with which he tackles the idea that makes it commendable. While the 'fundos' rant with lyrics like ghairat per bhi main na maroon, yeh kesa insaaf hai? (it's injustice if I can't even kill in the name of prudency) and 'open-minded burgers ko joota sar par maarna hai', the liberals strike back with verses such as 'dehshatgard se in ko pyaar, Khadim ban gaya inka yaar' (they love terrorists, including Khadim Rizvi).

Speaking with The Express Tribune, Pir said the idea came when he saw shrines being built for murderers on TV. "We wonder who these people are and where they come from. Some even argue that they should be gathered in one place and killed once and for all. Our solutions include genocide and mass murder, but rarely do we talk about moderation and education as a way out of this extremism."


He said the dialogue between all sides must be there to establish a balance and peace. "Disagreement between two sides don't need to result in murder. There needs to be a balance for us to co-exist without turning to murder for every dispute."

Asked which side he considers himself a part of, he said, "I like to think I am in the middle. I'm slightly inclined towards the liberal side but still relatively balanced. Here, even if you're a liberal, you still have religious tendencies inherently, because of the upbringing and culture. I think I'm religious, and I like to pray and try to be a good human being. I feel I'm in the middle."

Ali Gul Pir's Shor Macha gets clean-bowled

Pir shared some of his fanbase argued that the liberals didn't kill people at least. "People were arguing that liberals were harmless but then, we should be raising our voices to stop it from reaching that stage. Why should we wait for it to happen to speak up?"

He also received criticism for saying words such as 'mere mulk me na ho paadri (priest)' in the song but he defended it saying, "Firstly, it's satire. But this is what's happening in Pakistani. We can't deny that. This is a mirror to the society."

Have something to add to the story? Share it in the comments below.