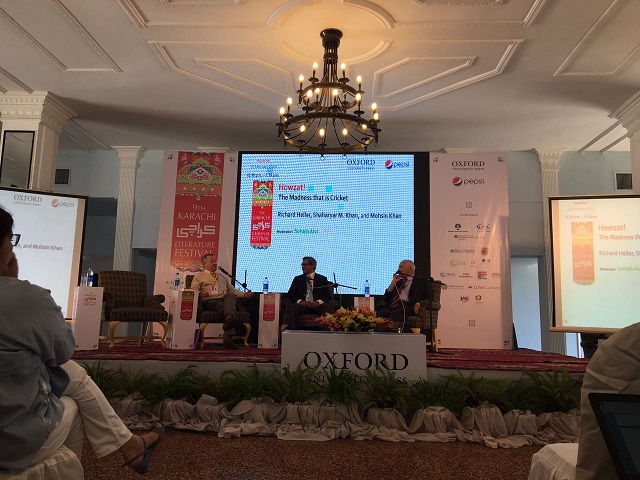 ---
KARACHI: Cricket and Pakistan go hand in hand - through the highs and the lows, both have stuck by each other. 'Howzat: The Madness that is Cricket' set out to understand exactly why Pakistanis embrace cricket despite being let down by it time and time again.

The session that centred around nostalgia and the unforgettable anecdotes that truly define Pakistan and its cricket team had a panel made up of former Pakistan Cricket Board Chairperson Shaharyar Khan and author Richard Heller. Pakistani cricket has a history all too rich to be summed up in one session; try as the two speakers might.

Ninth KLF opens its doors to Karachiites

"A 1939 test match went on for 10 days and still couldn't reach a conclusion, so you can't expect us to reach a conclusion about Pakistan's cricketing history in just an hour," quipped moderator Sohaib Alvi.

Both Khan and Heller were then encouraged to share anecdotes to shed light on what is right and what is wrong with Pakistan cricket, and recount some of the many stories that reflect the unique character of Pakistan cricket.

Pakistan is a team that has scored both 60 and 500 in a test in Australia and Heller was given the unenviable task of putting in words just what is so unique about them.

"All of us are attached. You are a foreigner looking in, what do you see?" asked Alvi. Heller, who has written a book on Pakistani cricket titled 'White on Green', said he believes no other team is able to evoke emotions quite like Pakistan's. "There's never really a dull moment - Pakistan cricket quickly reaches either great heights or depths."

Recounting a train journey he took from Karachi to Lahore, Heller said every time he looked out of the window, he would see some sort of cricket match going on. "This country really has a special relationship with cricket that I just don't see anywhere else."

For Khan, Pakistan's former foreign secretary, the public support reflects Pakistani cricket. "There is a madness about this sport, among the spectators that lifts our performance."

A recurring theme that Heller said he notices in Pakistani cricket is "its unique ability to find people out of nowhere." Pakistan is indeed known for young players who find their way into the first team at quite an early stage.

Khan, talking about the difference between Pakistani and Indian cricket, said he believes Pakistani bowlers tend to be more aggressive and intimidating. But on the other hand, Indian batsmen generally seem to be more refined.

Khan believed it is a lack of infrastructure rather than talent that hinders Pakistani batsmen and prevents them from becoming the best. "We don't have the right kind of pitches or wickets. Without proper pitches, you won't be able to achieve the required level of excellence. While Pakistan has talent, it is not tested and honed on good wickets."