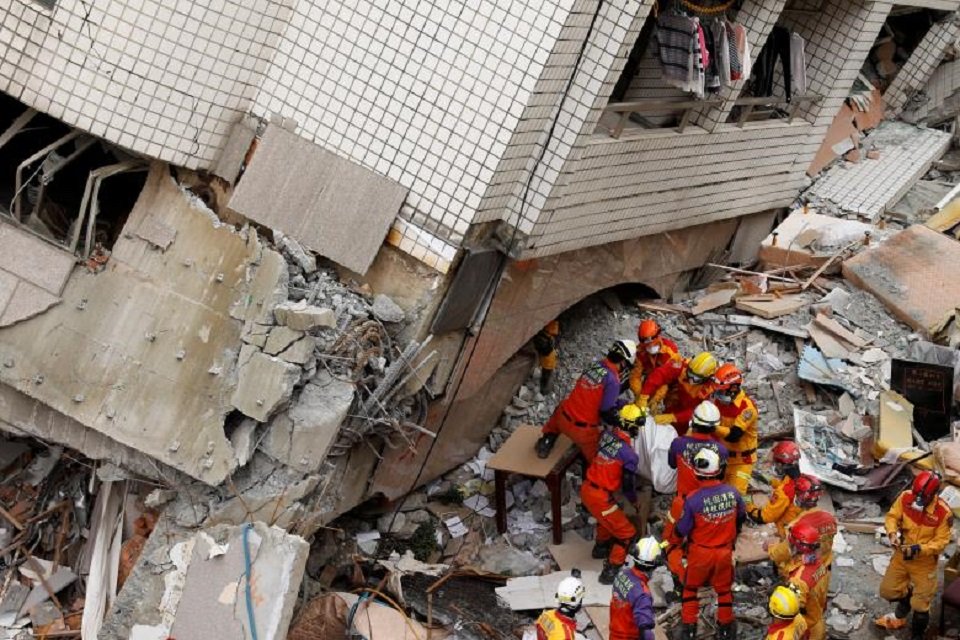 ---
TAIPEI: The toll from a deadly 6.4-magnitude quake in Taiwan rose to 14 on Saturday as rescuers searching for a missing family of Chinese tourists discovered two more bodies in a partially toppled building.

Scores of rescuers combed the rubble at the foot of the 12-storey Yun Tsui apartment block that was left leaning at around a 50-degree angle by the quake, complicating rescue efforts due to fears of an imminent collapse.

The two bodies and the last three missing are believed to be members of a family from Beijing who arrived in Taiwan Monday, authorities said.

New quake shakes Taiwan's Hualien

They were staying in a second-floor room at a hotel in the building in the eastern city of Hualien when the quake hit the following night.

"(We) are digging from the fourth floor down and even though the site is leaning at 45 degrees we are making an all-out effort for the rescue," the Hualien fire department said in a statement.

The first body pulled from the site was identified as a 12-year-old boy and the second an adult male, meaning 11 of the 14 people killed in the quake perished in the Yun Tsui building.

Rescuers also said a third body was recovered on Saturday afternoon but this has not yet been added to the official toll.

Three partially collapsed buildings in Hualien were being demolished from Friday for public safety, including the local landmark Marshal Hotel where one employee was killed.

Hero labrador sniffs out survivor in Taiwan quake wreckage

Hualien, on Taiwan's picturesque east coast, is one of the country's most popular tourist destinations, but the mountains that rise up behind the city are a testament to the deadly tectonic fault lines that run through the island.

The island's worst tremor in recent decades was a 7.6-magnitude quake in September 1999 that killed around 2,400 people.
That quake ushered in stricter building codes but many of Taiwan's older buildings remain perilously vulnerable to even moderate quakes.
COMMENTS
Comments are moderated and generally will be posted if they are on-topic and not abusive.
For more information, please see our Comments FAQ