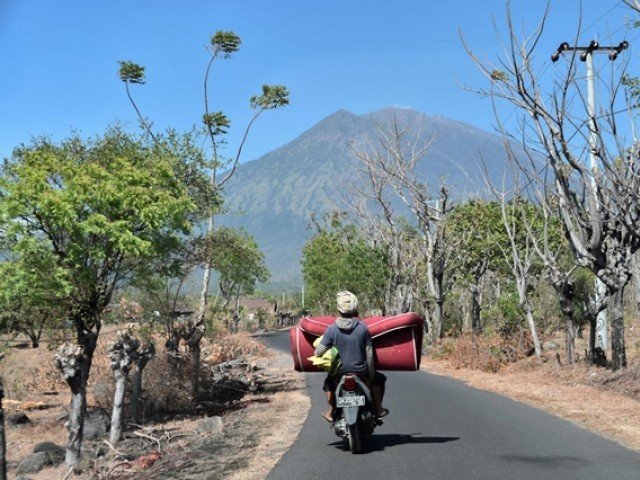 ---
JAKARTA, INDONESIA: Thousands of people who were forced to evacuate their houses on the Indonesian island of Bali because of a rumbling volcano can now return home, authorities said Saturday as they lowered Mount Agung's alert level.

The volcano, located about 75 kilometres (46 miles) from the tourist hub in Kuta, has been periodically spewing molten clouds of ash and smoke for months, forcing more than 100,000 people to flee the area and prompting the closure of the island's international airport.

Death-row Indonesian kingpin ran drug ring from prison

But on Saturday, Indonesia's volcanology centre lowered Agung's alert level from four to three, citing a decline in its activity.

"The volcanic earthquakes are now... declining significantly. The deformation is deflating and getting more stable and the concentration of the volcanic gas spewing into the air is also declining," the centre's senior volcanologist Gede Suantika told AFP.

Under the new alert level, the no-entry zone has been reduced to four kilometres from Agung's peak, an area with no residents, allowing all evacuees to return home, authorities said.

"The public activities as well as the tourism in Bali have been declared safe, there is no more disturbance from Mount Agung's activities," Indonesia's energy minister Ignasius Jonan said in a statement.

Bali declares 'garbage emergency' amid sea of waste

Agung rumbled back to life last September. The volcano's activity slowed down in late October, before the eruption threat reared its head again in November, sparking travel chaos and pounding Bali's lucrative tourism industry and its wider economy.

Currently nearly 20,000 evacuees are sheltering in 180 locations across the island. The volcano's last eruption was in 1963, killing around 1,600 people.

Indonesia, the world's most active volcanic region, lies on the Pacific "Ring of Fire" where tectonic plates collide, causing frequent volcanic and seismic activities.