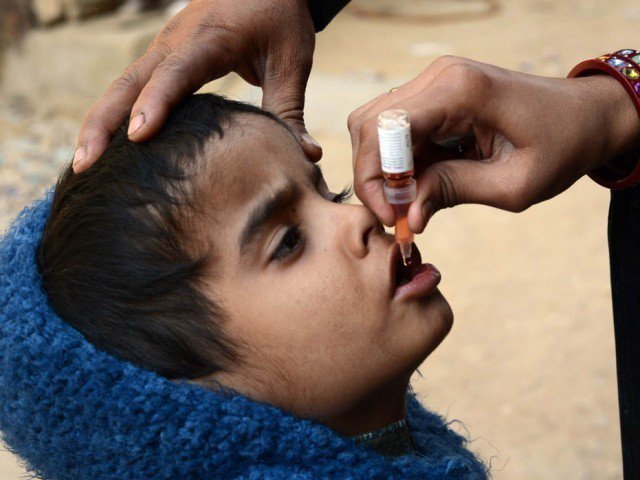 ---
PESHAWAR: Poliovirus, found in environmental samples collected from the vicinity of Kohat, have been traced back to neighbouring Afghanistan.

The virus could have been carried by anyone travelling between the two countries since a large number of Afghan nationals living in the city, officials privy to the matter told The Express Tribune adding that environmental samples collected from the Faqirabad area of Kohat had tested positive for polio.

However, it was unclear which exact area the virus had originated in since drains from around nine union councils, including two Afghan refugee camps, converge there.

In a first, Kohat environmental samples tested positive for poliovirus

"We have different points where we collect environmental samples and Kohat's samples tested positive for the first time," the official said, as he explained that it had set off some alarm bells, prompting an 'event response', resulting in a special vaccination campaign in the city.

The official, who requested anonymity since he was not entitled to talk to media, stated that environmental samples from Peshawar have also tested positive. With the district already termed as a reservoir for the poliovirus, repeated campaigns are already being carried out there with the hope that transmission will stop this year.

The last polio case from Peshawar has reported nearly three years ago on February 12, 2015.

Officials hoped with repeated campaigns, the transmission of the virus will stop, but at the same time cautioned that even one unvaccinated child could pose a serious threat to the entire community.

Punjab health workers go on strike as countrywide polio drive approaches

"You can call it an 'unexploded bomb' and once the virus spreads, it poses a serious threat not only to children within the community but to our entire efforts against the crippling virus," the official said, adding, "parents are requested to administer polio drops to their children."

The environmental samples from Kohat were collected on January 10 and a National Immunization Drive carried out on January 15, another official dealing with anti-polio campaigns said, adding "a special campaign was held on January 31 and adjacent districts were also covered after the samples tested as positive."

"Even one missing child is enough to turn things around and this is why we have to constantly focus on follow-up campaigns so that any child not available during the campaign, as well as those constantly refusing the drops, are administered the vaccine," the official said.

Karachi's second polio case confirmed in one year

He further said that only one campaign was required to eradicate the crippling virus from the region. "There is no doubt that in only one campaign, we can eradicate the virus but if only in the event that all children are vaccinated and not even a single child is left behind," he claimed.

Moreover, the emergency operation cell has planned to carry out another three-day campaign across the province with the aim of vaccinating 5.7 million children below the age of five-years-of-age. Besides covering children at their homes, camps for internally displaced persons along with Afghan refugees will also be targeted.

Some 21,151 teams including 18,409 mobile, 1,544 fixed, 926 transit and 272 roaming teams will participate in the campaigns where some 30,000 security personnel will be providing security to the polio workers.

With repeated vaccination campaigns, the number of poliovirus cases has been sharply dropped down from 306 to only eight after one case each was confirmed from K-P, Punjab and G-B besides two from Sindh and three cases were confirmed from Balochistan in 2017.

Published in The Express Tribune, February 10th, 2018.
COMMENTS
Comments are moderated and generally will be posted if they are on-topic and not abusive.
For more information, please see our Comments FAQ