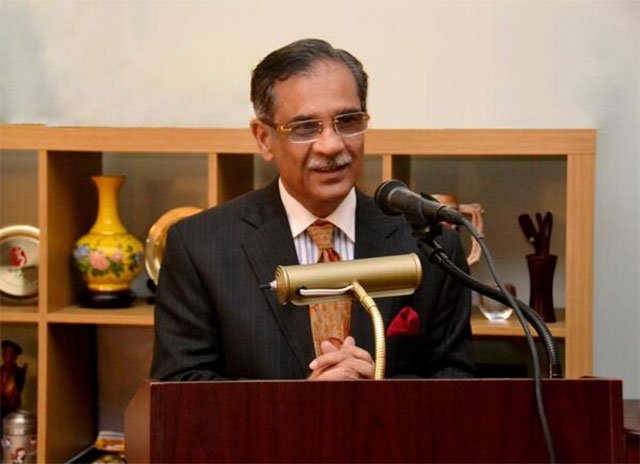 ---
ISLAMABAD: Chief Justice of Pakistan Mian Saqib Nisar observed on Friday the Supreme Court has no jurisdiction to interpret election law on the basis of Islamic injunction.

During the hearing pertaining to determining whether disqualification of lawmakers under Article 62(1)(f) is for life or time specific,  the counsel for civil society, Azhar Siddiqui claimed that the election law paved that way for former prime minister Nawaz Sharif to become party head violates Islamic teachings.

However, Justice Nisar remarked that if the counsel wanted to examine Section 203 of Election law with touchstone of religious provision, he should approach Federal Shariah Court.

"It is an exclusive domain of the FSC," he said. "We have no jurisdiction."


CJP wonders if convicted party chief can run affairs from jail


The court asked Siddiqui to outline provisions in the Constitution that have been violated through the election law.  The bench also hinted that the lawyer may have to pay a heavy cost for filing of a frivolous petition.

Responding to Pakistan Tehreek-e-Insaf lawyer Advocate Gohar Nawaz Sindhu request to disqualify lawmakers who had voted in favour of this law, the CJP remarked that the bench will slap heavy fine if the petition does not hold up.

The court noted that some parameters had to be set in order to filter filing of frivolous petition.

The hearing has been adjourned till Monday [February 12].

In Thursday's hearing, Chief Justice of Pakistan Mian Saqib Nisar had observed that matters related to former prime minister Nawaz Sharif becoming the head of a political party do not fall under the purview of the Article 6 of the Constitution.

The bench had asked PTI lawyer Babar Awan, if someone sentenced to life imprisonment could remain party head. The CJP also noted that Pakistan Muslim League Nawaz (PML-N)'s constitution gives immense power to the party head.

SC gives Daniyal Aziz ten days to engage counsel in contempt case

He then questioned whether or not a person being party head could run its affairs from behind bars.

When Awan cited judgments to substantiate his case, the CJP asked him whether any law made by parliament can be struck down on the basis of a judge' opinion. Likewise, is there any judgment, wherein a law has been struck down on a person-specific or mala fide basis, he added.

The CJP said that parliament is the supreme law-making body, but if it makes a bad law, there is need to establish this as a fact through constitutional provisions.
COMMENTS
Comments are moderated and generally will be posted if they are on-topic and not abusive.
For more information, please see our Comments FAQ