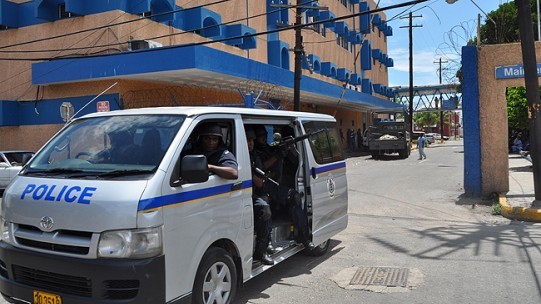 ---
Gun battles raging in the Jamaican capital have left more than 60 people dead, mostly civilians, hospital sources said on Tuesday, as troops fanned out across the city hunting an alleged drug kingpin.

Police have put the death toll at 27, but Prime Minister Bruce Golding warned the figures would likely rise, and police late Tuesday said there had also been "several murders" in Greater Kingston area.

Hundreds of troops and police have been deployed to hunt down Christopher "Dudus" Coke, wanted in the United States on drug-trafficking charges, amid a weeklong standoff with his loyal supporters.

The clashes appeared to be spreading after security forces Monday stormed the western seafront slum of Tivoli Gardens in their bid to capture Coke, whose extradition order was signed by the government a week ago.

With violence turning some of the city's slum areas into a war zone, three trucks loaded with bodies, including a baby, unloaded their grim cargo at a morgue in one of the main hospital complexes, witnesses said. Golding vowed the security forces would restore law and order -- three days after his government declared a state of emergency amid the worst violence to hit the Caribbean nation in decades.

"The government deeply regrets the loss of lives of members of the security forces, and those of innocent law abiding citizens who were caught in the cross fire," Golding told the House of Representatives. Golding warned that although the official toll stood at 27 "it is likely that the number is higher."

He ordered two top officials to launch an inquiry into the operation. The police press office confirmed late Tuesday that "there are several other murders committed in the corporate area" referring to Greater Kingston, listing at least 11 deaths in areas other than Tivoli Gardens.

Gunfire rattled around the city, as plumes of smoke hung above Tivoli Gardens which Coke's supporters had barricaded last week to thwart his arrest.

Hospital sources told AFP that early on Tuesday two trucks bearing "about 50" bodies had been unloaded at the morgue at the Kingston Public Hospital.

An AFP correspondent saw a third truck arrive full of bullet-riddled corpses, including a baby, later in the day. A nurse said there were 12 bodies inside, and they came from a different area to the east of the city called Mountain View.

Police also told AFP they have detained 211 people, including four women. But National Security Minister Dwight Nelson told a press conference that Coke, 42, had not yet been detained.

"Up to the last briefing I got the answer is no," Nelson said, quoted by the Jamaica Observer. Supporters say Coke is a local hero for helping residents pay bills, and even to send children to school.

Coke himself says he is merely a businessman. Soldiers dressed in full combat gear and police on Tuesday combed the deserted downtown streets looking for him, but security officials refused to confirm how people many had been deployed.

Helicopters buzzed overhead and the normally bustling streets were deserted. Residents have been warned to stay home, and the few who ventured out stayed close to walls, diving for cover as gunfire rattled around the area. Schools and stores have shut.

Most of the million tourists who flock to the island every year do not visit Kingston -- long dubbed one of the murder capitals of the world, with 1,700 homicides recorded in 2010 out of a population of 2.8 million.

Instead they flock to the beaches to soak up some sun and the sounds of reggae music, leaving the island's economy heavily dependent on tourism for bringing in valuable foreign currencies.

The United States and other countries have also warned their citizens against travelling to Jamaica, as some airlines cancelled flights.

Drug warfare between rival gangs has long plagued the island which is a key transshipment point for cocaine from South America heading for North American and European markets.

The US Justice Department has labeled Coke one of the "world's most dangerous narcotics kingpins." He is accused of leading since the 1990s an international gang -- dubbed "The Shower Posse" for the number of bullets it allegedly has rained on foes -- which US prosecutors say sells marijuana and crack cocaine in the New York area and elsewhere.