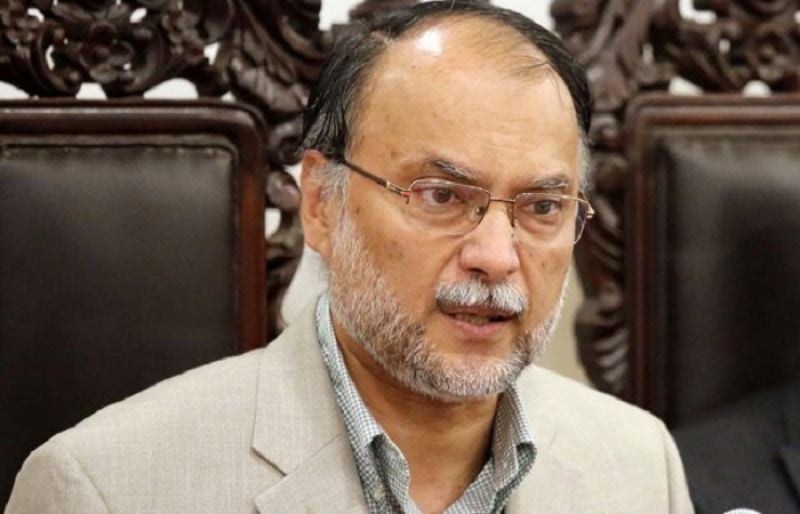 ---
WASHINGTON: Underscoring the imperatives for Pakistan and the United States to cooperate in stabilising Afghanistan, Interior Minister Ahsan Iqbal said that both countries, which have a long history of relationship, need to take extra steps to build mutual confidence that has ebbed to an all-time low.

In an interview with the Washington Post published on Wednesday, the minister also firmly rejected accusation by the Trump administration of supporting terrorist groups and said that Pakistan was taking actions against all groups without any discrimination.

India could be behind target killing of Chinese national in Karachi: Ahsan Iqbal

Relationship between Pakistan and the United States came under new strains after President Trump in a tweet accused Islamabad of not fully cooperating in fighting terrorists and days later the administration announced to withhold all security aid.

"This whole metaphor of 'do more' will not take us anywhere," the minister said while adding that both countries needed to take 'extra steps' to build confidence that was currently at an "all-time low on mutual trust, on both sides".

The minister said that Pakistan gave a 'measured' response to the Trump's administration criticism as the government still believed that the solution to the Afghan problem was not possible without close collaboration between Pakistan and the United States.

"We recognise that the USA is an important stakeholder in Afghanistan, but Pakistan is the biggest stakeholder."

President Trump in August announced a broad South Asia strategy as part of efforts to deal with the situation in Afghanistan.

Islamabad has already conveyed its strong reservation to the new strategy which seeks an increasing involvement by India in Afghanistan.

The minister said that "Pakistan's partnership is most critical for the success of the Trump administration's strategy".

The minister strongly denied the administration's claims that Pakistan was providing support for certain terrorist groups.

Citing the military operations against extremist elements, he said that Pakistan has taken actions against all terrorist groups.

"There is no good terrorist or bad terrorist," he said.

"We are going after everyone. We have no favorites."

On the need for boosting mutual trust, the newspaper quoted the minister as saying that as a key first step would be to re-establish 'structured dialogue' that was initiated during the previous administration and which deals with multiple fronts beyond security.

Iqbal, who is also the Minister for Planning and Development, said the infrastructure being built under the China-Pakistan Economic Corridor (CPEC) initiative will enhance Pakistan's export potential.

CPEC promises $46 billion worth of investment in Pakistan in pure economic infrastructure, he added.

While economic and business ties with China have substantially increased due to recent Chinese investment, the US is still Pakistan's largest single export market.

Iqbal said that Pakistan value its relations with both the countries.

"Pakistan has maintained a very steady balance between its relations with China and the United States," the paper quoted the minister as saying.

Islamic State stronghold in Afghanistan is a threat to regional peace, says Ahsan Iqbal

"For us, it is not either/or. We value our relationship with both countries."

However, the minister emphasised that economics have taken a much center seat in the relationships of countries in the new world.

The federal minister said that Pakistan desires its bilateral ties with the US to be focused more on development as, he said, the real powerhouse of the US economy was not in its weapons but in its universities and Pakistan has not benefited from that.

The minister told the newspaper that the government has allocated funds for a US-Pakistani knowledge corridor with an aim to getting 10,000 Pakistanis to earn PhD at American universities over the coming decade.

He said this is a great opportunity for the US to promote its "values of liberty, freedom and democracy by allying our top talent to be educated in the United States".

To a question, the minister said that if security concerns are denied, every nation has a legitimate right to look for alternatives.

However, the minister added that Pakistan's security infrastructure was very much based on US support and equipment.

"Pakistan and the US have a long history of cooperation and partnership between our militaries. So there is a strong foundation, which I think we can easily rebuild."