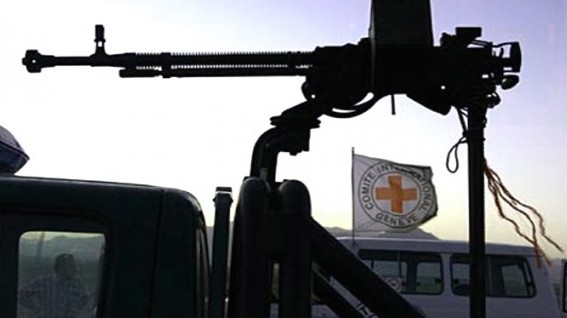 ---
KABUL: Health services in Afghanistan, one of the world's poorest countries, are being strained by a rising number of people injured in the escalating insurgent war, the Red Cross said on Tuesday.

Southern provinces Helmand and Kandahar, where fighting between Taliban and US-led NATO and Afghan forces is intensifying, were the most troubling areas, the International Committee of the Red Cross (ICRC) said in a statement.

"Fighting, mines and road blocks are preventing many people in the conflict-affected areas of Afghanistan from getting to hospital," it said. "The armed conflict is taking a heavy toll on health services around the country. Even basic first aid is often lacking, let alone advanced war surgery.

And when health care is available, it is not always easy to get it," it said. This has been the case in Marjah, a poppy-growing district of Helmand where international and Afghan forces launched a major operation in mid-February.

Insurgents planted booby-trap bombs, known as improvised explosive devices (IEDs), throughout Marjah, impeding the progress of military and civilian efforts to re-establish government sovereignty, the statement said. Mines planted on roads around Marjah made it difficult for residents and injured Taliban fighters alike to leave.

"Even after the fighting is over in a particular area, we're having difficulty transporting patients to doctors," the statement quoted a volunteer with the Afghan Red Crescent Society as saying. "Mines, checkpoints and general insecurity stop us getting through safely," the volunteer said.

The ICRC said it was seeing a similar situation emerge in neighbouring Kandahar, which has become the latest focus of the war and regarded by the Taliban as their fiefdom. The ICRC said its operatives had tracked a "worrying" trend in Kandahar with "a substantial increase in the number of patients injured by improvised explosive devices and other weapons".

Attacks against international forces are also on the rise as US, NATO and Afghan forces put the squeeze on the insurgents with the aim of eradicating the Taliban threat from the province before elections set for September. The United States and NATO are ramping up their overall deployment in Afghanistan to 150,000 troops by August.

Most of the thousands of extra troops will go through Kandahar as part of the operations underway there. Health facilities are woefully inadequate in Afghanistan, which has been in the grip of war for the past three decades.

Hospitals and clinics, along with education and power generation, top the wish lists of Afghans but despite billions of dollars in aid since the Taliban regime was overthrown in 2001, health remains poorly under-resourced. The ICRC said it was training Afghan doctors, as well as providing first aid training and equipment to "arms carriers and to civilians living in conflict areas".
COMMENTS
Comments are moderated and generally will be posted if they are on-topic and not abusive.
For more information, please see our Comments FAQ