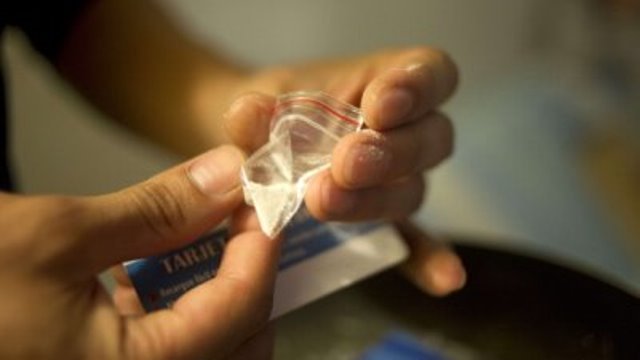 ---
JAKARTA: A jailed Indonesian drug lord facing execution ran a meth-and-ecstasy ring from behind bars, police said Thursday, as officials announced his narcotics network had been smashed.

A dozen people were arrested as police said they seized nearly 111 kilos (about 245 pounds) of methamphetamine and more than 18,000 pills of ecstasy in Aceh and North Sumatra provinces.

Convicted drug kingpin Togiman, also known as Toge, ran the group from prison, despite already having been sentenced to death twice for narcotics trafficking, police said, adding that the ring had links to Malaysian organised crime.

Australian faces death penalty for alleged Bali drug trafficking

"The mastermind was Togiman," said Sulistiandriatmoko, spokesperson for Indonesia's anti-drugs agency.

"He must have had many other accomplices. (The suspects are) probably just the first few that we have caught. We'll investigate this further and coordinate with international anti-narcotics (agencies) if needed."

Togiman, who is in his early 60s, will be charged with drug trafficking, officials said, adding that it would be up to the courts to decide whether he should face another death sentence.

The twelve arrested suspects have been charged with drug trafficking and could face execution or life in prison.

Togiman was already in jail when he was again convicted of drug trafficking and sentenced to death for the second time last year. It is not known when Togiman might be executed

It was also unclear how he was able to operate a criminal network while incarcerated, but corruption-riddled Indonesia's prisons are known for rampant crime.

"Fifty percent of drug trafficking is being done from inside prisons," Budi Waseso, head of the anti-drugs agency, told reporters.

Last year, the government vowed to jail guards caught taking bribes from inmates in exchange for special treatment.

In one of the highest profile cases, a businesswoman jailed for corruption was found with banned items in her cell, including a spring mattress, couch, refrigerator, television and air conditioning.

'Narcos' moves to Mexico following Escobar, Cali Cartel's fall

Indonesia has some of the world's toughest anti-drug laws. Several foreign and Indonesian nationals have been executed by firing squad in recent years for drug trafficking, including Australians Andrew Chan and Myuran Sukumaran in 2015, a case that sparked diplomatic outrage and a call to abolish the penalty.

Indonesia's President Joko Widodo has said the country is facing a "drug emergency" and previously ordered police to shoot drug traffickers who resist arrest.