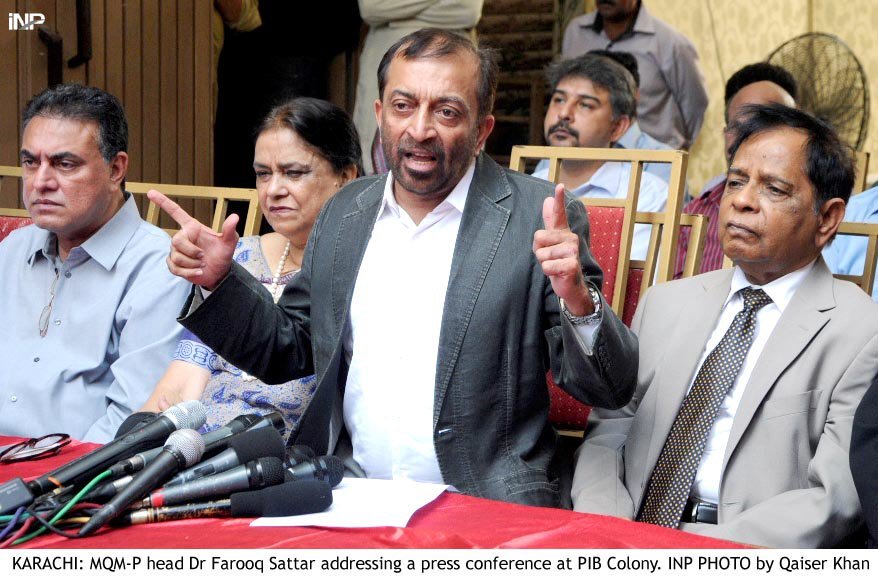 ---
KARACHI: Leaders in both camps of the Muttahida Qaumi Movement-Pakistan (MQM-P) on Wednesday claimed that they have resolved their differences over distribution of party tickets for Senate elections, but sources claim that the two sides have yet to reconcile.

Sources told The Express Tribune that in case the two sides failed to reach an agreement, they would file nomination papers with their own set of candidates.

Negotiations between MQM-P chief Farooq Sattar and Rabita Committee members continued throughout the day with the situation changing every now and then. What was disclosed by leaders, representing the two sides, at the end of all talks during the day was their separate claims that the situation had defused.

However, there was no joint announcement as to any settlement.

Senior party leader Khawaja Izharul Hassan, who was part of the team that held negotiations with Sattar, told media persons that they had reached an agreement over the award of tickets to Senate candidates.

MQM-Pakistan factions fail to bury the hatchet

"Farooq Sattar will soon make an announcement to this effect," he said after attending a meeting with Sattar along with Rauf Siddiqui and Javed Hanif.

Rauf Siddiqui also spoke to the media, saying, "MQM is not for sale. We have finally resolved this issue."

However, Sattar made no announcement as claimed by Khwaja Izhar. And the sources claimed that Nssreen Jalil, Dr Frogh Nasim, Aminul Haq and Kamran Tessori were among the six who would be awarded tickets.

On Monday, Rabita Committee, under the convenership of Sattar, had finalised the names of Nasreen Jalil, Farogh Nasim, Aminul Haque, Shabbir Qaimkhan, Kamran Tessori and Amir Khan. However, Sattar had insisted on keeping Tessori's name in top four, which led to a controversy as Amir Khan and other Rabita Committee members were not happy over the decision.

This led to a clear rift within the party, with each side setting up its separate camp – Sattar in PIB Colony and Rabita Committee members in Bahadurabad.

Shabir Qaimkhani, another Rabita Committee members, appeared before the media and announced that he was no more a candidate for Senate.

Rift in MQM-P over Senate election tickets

"Rabita Committee had nominated me for this seat. I have now changed my mind deciding not to contest election," he said, adding, "Initially five names were discussed, but later all our leaders evolved a consensus to add my name, but Farooq Sattar opposed it and replaced my name with Kamran Tessori," he revealed.

Earlier speaking to media, Shahid Pasha, a Rabita Committee member siding with Sattar, dispelled the impression of any threat of split in MQM-P.

Indirectly criticised the Amir Khan group, he said, "Sattar Bhai does not believe in grouping within the party which is why he faces such a situation. Today, he has to make a firm decision on Senate tickets."

Published in The Express Tribune, February 8th, 2018.
COMMENTS
Comments are moderated and generally will be posted if they are on-topic and not abusive.
For more information, please see our Comments FAQ