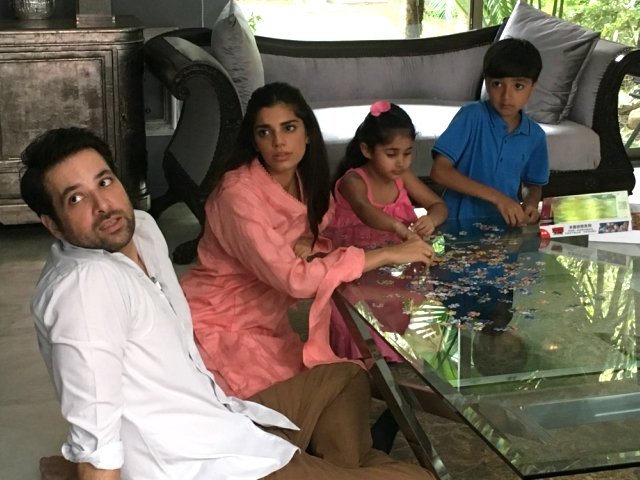 ---
DUBAI: Pakistani dramas are often rightfully blamed for being too regressive and misogynistic. The damsel in distress trope, the weepy female protagonist and the abused heroine is a comfortable stereotype most writers rely on. The evil in-laws, the home-breaker, the naik Parveen – all these are one-dimensional interpretations of women's stories that illustrate not only a lack of imagination but underestimating the intelligence of the audiences.




A new play starring Sanam Saeed, Mikaal Zulfiqaar and Nimra Bucha is set to be aired soon and might be yet another trendsetter. The play, produced by Kashf Foundation, will be a seven episode long mini-series. Written by Amna Mufti and directed by Sarmad Sultan Khoosat, the play stars Saeed as the protagonist battling depression. Titled Aakhri Station, the play also touches upon other topics such as drug addiction, mental health, HIV and forced prostitution. Kashf has previously produced dramas like Rehai and Udaari - both of which also focused on social issues, women empowerment and highlighting societal taboos.

Women can be heroes of their own stories, is the theme and concept behind Aakhri Station and the episodes will weave these various women together through a train journey.




According to a press release, Aakhri Station is a story of seven women, each of whom is going through a different journey. They end up together on the same train and realise that despite their differences, they are similar in many ways.

Roshaneh Zafar of Kashf Foundation discussed the theme of the play with The Express Tribune. "In our social context the mental health of women is an issue that is generally not talked or spoken about. There is a huge social stigma attached to mental illnesses and Pakistan women are two to three times more likely to suffer from depression than men. Here, depression is not considered a disease that needs treatment but seen as an issue that is required to be suppressed. This leads to further complications. Our purpose is to raise awareness on the symptoms and causes of mental health and prove that it's treatable," said Zafar.

The development activist added, "In our patriarchal society, mental illnesses of women are not acknowledged. The social stigma prevalent around this issue creates misconceptions regarding treatment. A lot of times families seek out spiritual or faith healing options which exacerbate the issue. This in turn generates misconceptions and leads to the alienation and isolation of the individual. We have tried to show that empathy and compassion is important in dealing with depression."




How does the play then promise to change the way we listen and view women's stories? Zafar replied, "Our purpose is to not only highlight the problems and issues women face in our society but also make public, how despite extreme discrimination and lack of support, these women can overcome their challenges. Our storyline always portrays ordinary women with extraordinary strength, who don't see themselves as victims and are not hemmed in by their misfortunes. They suffer but out of their suffering, emanates hope. Most importantly, our stories are based on real instances and real narratives - true struggles that surround us every day."

The voiceover for the trailer is done by Shabana Azmi and it is a rendition of Amjad Islam Amjad's poetry, Mujhe Apne Jeene Ka Haq Chahiye (I want the right to live). The play will go on air on February 13.

Have something to add to the story? Share in the comments below.
COMMENTS
Comments are moderated and generally will be posted if they are on-topic and not abusive.
For more information, please see our Comments FAQ