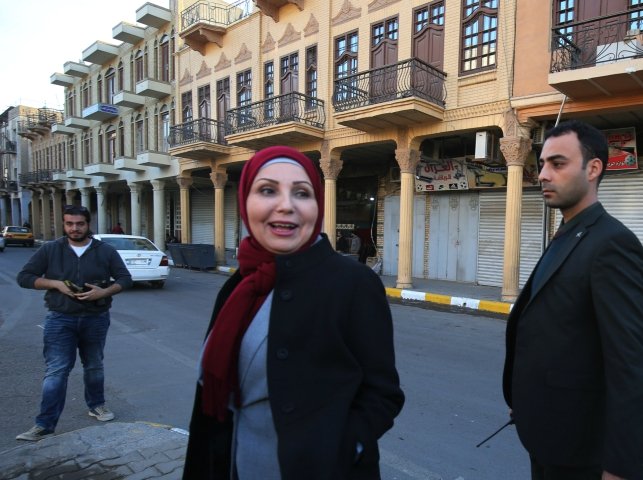 ---
The mayor of Baghdad wants to revive her war-torn city, fix its decrepit infrastructure and twin it with Paris -- another female-led metropolis.

Thikra Alwash, a 60-year-old civil engineer and only woman mayor of a Middle East capital, faces a Herculean task.

She has given herself 10 years to revive the city, heart of the Abassid Caliphate and the centre of Arab and Muslim civilisation for five centuries.

Alwash has prioritised repairing war-scarred infrastructure and restoring the city's heritage -- but to do so, she needs to find the money.

"When I took up my post in 2015, the municipality was bankrupt. I was told that I had to find the financing myself," she told AFP.

"They chose a woman because we know how to pay attention to expenses."




Elegantly dressed with a red headscarf at her expansive city centre office, she said Baghdad was heading in the right direction.

"I am not saying that the services we offer the population are enough, but we are on the right track," she said.

A former director general at Iraq's higher education ministry, Alwash was appointed by Prime Minister Haider al-Abadi.

She said her budget, drawn from various taxes, fines and private investment, is $90 million.

That is set to increase, thanks to a new law under which the finance ministry will pump extra tax revenues into the municipality.

The budget "needs to double to make basic services work properly", Alwash said.

Even with adequate funding, that is no small task in a city that sprawls over 900 square kilometres.

Baghdad's infrastructure was laid to waste by a 13-year international embargo against the regime of late dictator Saddam Hussein, the 2003 United States-led invasion that toppled him and the subsequent years of sectarian violence, culminating in the blood-soaked rise and fall of the militant Islamic State group.

Today, it has more than seven million inhabitants, up 45 percent since 2015, a year after IS seized a third of Iraq and triggered a rural exodus.




"Our priority is the proper functioning of drinking water, sewerage and garbage collection," said Alwash, who is in charge of some 36,000 employees.

Also in the pipeline is a $210 million, World Bank-funded water and wastewater project to tackle Baghdad's chronic water-related illnesses.

The Iraqi capital has been on the decline for decades, with many districts abandoned -- although that hasn't eased chronic traffic jams that pump out suffocating pollution.

Alwash hopes to build a new ring road, widen the streets and develop public transport infrastructure including a metro system.

"All this is provided for in our 2030 master plan, which we are putting the final touches on, taking into account that the city will have grown by 10 kilometres on each side" by then, doubling its surface area, she said.

Another priority is the city's Islamic heritage, including plans to rehabilitate two of its iconic arteries, Al-Rashid Street and Abu Nawas Avenue.

The first was built during World War I and until the 1970s was Baghdad's answer to the Champs-Elysees, while the second girds the Tigris river, the city's green lung.

Down on Rashid Street, the mayor receives mixed reviews. Street vendors reproach her for removing their pavement stalls, while others praise her efforts to restore the promenade to its former charm.




Alwash is hoping international ties will help her in her mission to revive the city.

With that in mind, she plans to enlist the help of Paris mayor Anne Hidalgo.

"I would like to sign a twinning agreement with her because I hope to benefit from her experience in heritage rehabilitation," she said.
Caecilia Pieri, a researcher at the French Institute of the Near East and author of a book on Baghdad's history since World War I, said both cities had experienced urban destruction -- Paris had seen "four revolutions and three wars".

"It's a capital city where professionals know how to practice reconstruction," she said.

But Iraq's notorious problem of graft could threaten Alwash's ambitious plans.

She said she "doesn't like" speaking about corruption.
"I prefer to talk about mistakes," she said.
COMMENTS (1)
Comments are moderated and generally will be posted if they are on-topic and not abusive.
For more information, please see our Comments FAQ