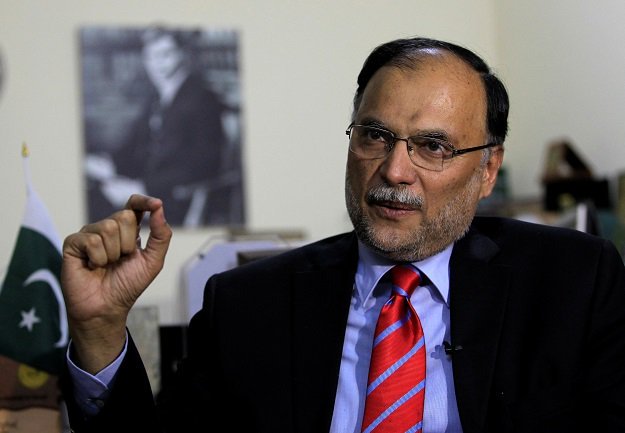 ---
Speaking at an international convention on World Geological Threats in Washington, Interior Minister Ahsan Iqbal said that security risks pose a global challenge.

Iqbal said that Pakistan has led the Global War on Terror and has rendered great sacrifices in dismantling terrorist footholds, Radio Pakistan reported.

Pakistan will be among top 25 economies in no time: Ahsan Iqbal

The interior minister said that the presence and activity of the Islamic State in Afghanistan is threatening regional peace. However, Pakistan's commitment to eradicating terrorism and the fruition of the National Action Plan has redeemed the security situation in Pakistan.

Iqbal took pride in the country's forthcoming economic prospects and said that Pakistan is an attractive destination for foreign investments.

In conversation with Senator Lindsey Graham, Iqbal stressed that Pakistan looks forward to working with the United States in restoring peace in Afghanistan.

He further added that stability in Afghanistan is in the best interest of Pakistan because it widens the economic horizon and installs protective guards against security risks for Pakistan itself.

International forces are trying to pressurise Pakistan: Ahsan Iqbal

Senator Graham acceded to the minister's remarks and maintained that continued engagement between Pakistan and the United States is imperative to the peace process in Afghanistan.

Iqbal and Graham discussed other bilateral and regional issues. The interior minister also detailed Pakistan's military successes in combating terrorism through the National Action Plan.