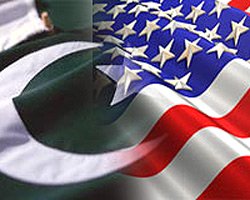 ---
KARACHI: The US intends to hold Pakistan accountable for its failure to deny sanctuary to militant proxies, Deputy Secretary of State John Sullivan told the US Senate Committee on Foreign Relations.

In a Tuesday committee meeting on 'The Administration's South Asia Strategy on Afghanistan', Sullivan informed that the South Asia strategy marks a change from status quo in US-Pakistan relations.

"We also encourage restraint in Pakistan's military nuclear and missile programmes, and seek continued, closer alignment of Pakistan's non-proliferation policies with our own," he added.

US lauds Pakistan's efforts in fighting terrorism

The State Department's second-in-command said the US "continues to value its relationship" with Pakistan and "recognises the benefits of cooperation".

"Pakistan has played an important role in pushing al Qaeda closer to defeat, combating ISIS, securing its nuclear weapons, hosting Afghan refugees, and, importantly, providing access for supplies and equipment used by US and Afghan forces, he said adding, "We also acknowledge the enormous sacrifices the Pakistani people and security forces have made to combat terrorism."

He added that the US would restore security assistance to Pakistan "when we see decisive and sustained actions to address our concerns, including targeting all terrorist groups operating within its territory, without distinction."

Pakistan: US ally or foe?

He said that the US is committed to doing its part to reduce tensions in the region in ways that address Pakistan's legitimate concerns.

"To be clear, we oppose the use of terrorist proxies by any country against another country, anywhere in the world. The use of terrorism has no place in a rules-based international system. We hope the Pakistanis will also help to convince the Taliban to enter a peace process."

On India, he said the US continues "to deepen our strategic partnership with India," while bringing up  Secretary of State Rex Tillerson's October 2017 trip to New Delhi.

"We expect to launch our inaugural 2+2 dialogue with India in Washington this spring when Secretary Tillerson and Secretary Mattis will meet with their Indian counterparts to further deepen our security ties."

He said the US and India share economic and humanitarian interests in Afghanistan. "India has allocated more than $3 billion in assistance to Afghanistan since 2001. India further strengthened ties with Afghanistan with the signing of a Development Partnership Agreement last year. We appreciate these contributions and will continue to look for more ways to work with India to promote economic growth and stability in Afghanistan."

US threatens to unveil anti-Pakistan actions

Assistant Secretary for Asian and Pacific Security Affairs Randall Schriver said that the US is now focusing the Afghanistan portion of the South Asia Strategy on four key pillars – regionalisation aimed at enlisting the support of regional actors and enhancing overall regional stability; reinforcement of Afghan National Defense and Security Forces (ANDSF) capacity, capabilities and overall effectiveness; realignment of US, coalition, and Afghan resources; and an Afghan-led peace process facilitating political settlement and reconciliation.

"All of these critical pillars of the strategy are complementary, mutually supportive, and designed to integrate through a political, fiscal, and military sustainable model," Schriver said.

He added that the US is equally focused on minimising malign influence in Afghanistan, particularly from Russia and Iran.

"We have asked regional partners to leverage their relationships with Afghanistan and Pakistan to reinforce our calls for broader cooperation between the two countries. We are also relying on regional partners such as India to increase their economic and humanitarian aid to Afghanistan."

He said Pakistan is a long-standing and important partner, with deep historical ties to the US, and is key to the success of the South Asia Strategy.

"America's interests are clear: we must stop the resurgence of safe havens that enable terrorists to threaten America, we must encourage restraint in Pakistan's nuclear weapons program and prevent nuclear weapons and materials from falling into the hands of terrorists."

Schriver also said the US must encourage India and Pakistan to address tensions in order to reduce the risk of nuclear war.

Pakistan unlikely to expand anti-terror fight

"During Secretary of Defence Mattis's first trip to Pakistan in December, he engaged directly with Pakistani Chief of Army Staff [General Qamar Javed] Bajwa on the objectives of the South Asia Strategy."

"Secretary Mattis underscored that the United States appreciates Pakistan's significant sacrifices in the war against terrorism, and that Pakistan can play a vital role in working with the United States and others to facilitate a peace process in Afghanistan."

He said that since the announcement of the South Asia Strategy in August, Pakistan has taken some positive steps. "The steps to date, however, do not reflect the type of decisive action that is necessary to restore regional stability. We continue to call on Pakistan to take decisive, sustained action against terrorist safe havens on its soil."

He said the Defence Department will continue to press Pakistan to make positive changes in its approach and will provide clear and consistent feedback in response to Pakistani action or inaction.

"DoD wants to ensure that Pakistan has a 'bridge back' to enhanced cooperation if it takes decisive action on US requests."

Pakistan knows what it needs to do, says US

He also outlined a number of measures to improve the performance of Afghan security forces and the changes in the US role in Afghanistan, such as its adjustments to operational and Train, Advise, Assist (TAA) authorities; reorganisation of portions of the ANDSF to improve lethality and unity of effort; and shifting lethal and non-lethal resources from outside of Afghanistan into theatre.

"The objective of the South Asia Strategy is a political settlement and reconciliation in Afghanistan. We seek to drive all major parties, including the Taliban, towards a political settlement in Afghanistan that ends the conflict, reduces violence, and denies safe haven to terrorist organisations."

In case of US action, Pakistan is ready: DG ISPR

Cost of war

During the ensuing question and answer session, Sullivan noted that there are still remnants of al-Qaeda in Afghanistan along with more lethal elements of ISIS.

Senator Rand Paul, a critic of foreign wars, asked if it can be determined that these elements want to attack US territory.

"Our national security is made more perilous the longer we stay there," he said, adding, "We don't know who the good guys in the Taliban are, if there are any." He questioned why the US would negotiate with "people who just blew up something".

Suggesting a withdrawal from Afghanistan, he said, "We shouldn't be nation-building. We're not very good at it."

Sullivan replied that the new US policy acknowledges there isn't a military solution.

Pakistan ranks fifth on Global Terrorism Index: report

He also said the bilateral Afghanistan-Pakistan relationship has to improve, noting that "if we can't solve this, things won't improve".

Committee Chairman Senator Bob Corker noted, "If you took the entire Afghan GDP it couldn't pay for security efforts under way over there," adding that Afghanistan does not have the kind of resources required to develop and recover.

Senator Jeff Merkley said, "We cherry-pick pieces…our money has been helping to drive the corruption in Afghanistan…Our presence remains a recruiting mechanism for the Taliban."

A number of remarks were also made by senators about the justification for the billions spent every year in Afghanistan when the US government is struggling to care for its veterans and set up addiction services to address the domestic opioid epidemic.

After Sullivan credited Pakistan for what it has done for Afghan refugees, saying that if they went back home en mass, it would be an unmanageable burden for Afghanistan, Senator Chris Coons made a remark about Trump's xenophobic immigration policies.

"How does it affect our moral authority when the US is kicking out refugees," he asked.
COMMENTS (2)
Comments are moderated and generally will be posted if they are on-topic and not abusive.
For more information, please see our Comments FAQ