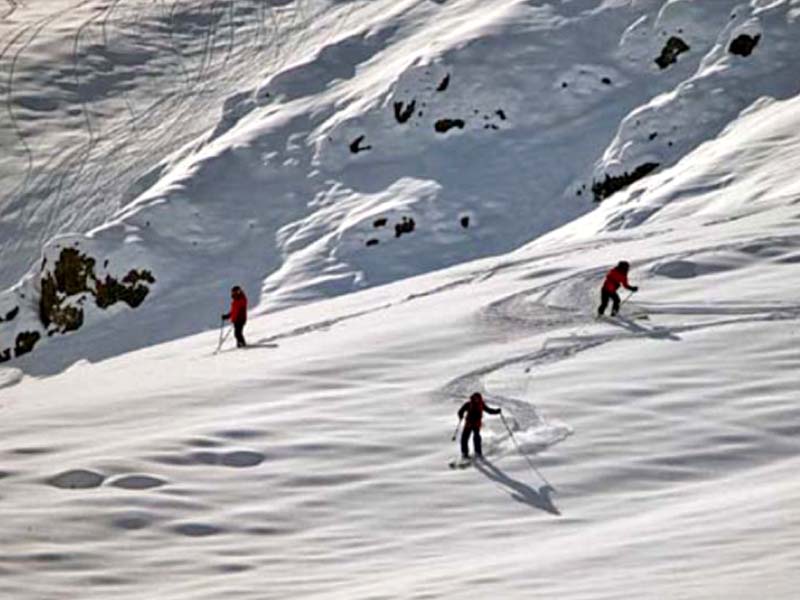 ---
KARACHI: After facing security threats and a negative image in international media for years, Pakistan has finally started drawing global tourists.

Sensing the opportunity, the government rightly expects to improve tourism by offering on-arrival visa to the nationals of 24 countries.

It announced that it will offer 30-day visas at the time of arrival of tourists in groups from Austria, Belgium, Canada, China, Denmark, Finland, France, Germany, Greece, Iceland, Italy, Japan, South Korea, Luxembourg, Malaysia, the Netherlands, Norway, Portugal, Singapore, Spain, Sweden, Thailand, the UK and the US.

Govt initiates process to formulate tourism policy

With a noticeable improvement in security conditions, the flow of tourists to Pakistan tripled since 2013 to 1.75 million in 2016, of which domestic travellers were between 30% and 38%, says the Pakistan Tourism Development Corporation.

Globally, officials of the hospitality industry believe an on-arrival visa is a huge attraction for international tourists that want to visit any particular country. This incentive not only saves time, but also gives a welcoming message to the travellers.

Tourism contributed $19.4 billion to Pakistan's economy in 2016, said a report of The World Travel and Tourism Council. In the next 10 years, the number can rise to $36.1 billion.

According to Travel Agents Association of Pakistan's former chairman Yahya Polani, the on-arrival visa facility is just a small step and the government needs to take more serious measures to improve tourism in Pakistan.

He emphasised that Pakistan, embroiled in the war against terrorism for more than a decade, should counter the negative perception by telling tourists that it has now turned into a safe place for foreigners and would remain so in the future as well.

"As the situation on the ground is not as bad as in people's minds abroad, the government needs to work on portraying its positive image," Polani said. "We have never worked to improve our image in the world." Commercial attachés in Pakistani consulates in the countries whose nationals have been offered on-arrival visa could be of particular help in highlighting the potential of the country.

Around 13 million international passengers arrive in Pakistan every year, but 99% of them comprise Pakistani expatriates and the labour force working in Middle Eastern countries who come to spend holidays at home.

Ideally, one out of three should be a foreign tourist, so there is a potential for an increase in international tourists to 4 million in Pakistan, which will bring a visible change in the country's aviation industry.

"The on-arrival visa policy will help Pakistan aviation on multiple fronts," remarked Muhammad Afsar Malik, former additional director of the Civil Aviation Authority (CAA).

Types of tourism

A booming industry also provides critical lifeline to associated businesses like hotels and restaurants as well as transport services including ride-hailing services Uber and Careem as well as rent-a-car services. Apart from these, souvenir stores also thrive, thus creating scores of jobs.

In Pakistan, mainly two types of tourists arrive. Some come to take part in religious gatherings and festivals whereas many others come to see scenic beauty in the hilly northern areas of the country. Sikhs arrive on pilgrimage to Pakistan to visit the historic Gurdwara in Nankana Sahib, Shri Panja Sahib Gurdwara, Shri Sacha Sauda Gurdwara and other places in Pakistan.

People from Europe, North America and Far East can come to Pakistan since Sikhs live in countries like Canada, the United States, the United Kingdom and others.

Similarly, Pakistan has religious sites for Buddhists as well like Ghandhara kingdom - the present day southern Khyber-Pakhtunkhwa, Uddiyana - a village in Lower Dir district and most importantly Taxila.

"Pakistan particularly benefits from religious tourism despite having a negative image; people crave to visit religious places and do not care much about the image; they arrange money even if they are not financially sound," CAA's Malik said.

Pakistan has five out of 12 biggest mountains in the world. Its northern areas and the mountains attract people from all over the world.

The British Backpacker Society ranks Pakistan the world's top travel destination for 2018, describing it as "one of the friendliest countries on earth with mountain scenery beyond anyone's wildest imagination."

Moreover, climbing the high-altitude mountains is one of the most expensive sports. A trip to the K2 costs $70,000.

"Mountaineers bring money in briefcases to climb the mountain," said Ghazanfar Ali Shaikh of Rocket Tourism which organises the base camp at K2. So, he said, the government should promote it.

Islamabad looks to revive religious tourism deals

Pakistan has all the four seasons, mountains, sea, desert and everything that a tourist wants. Tourists can come here for adventure, spiritual satisfaction and sports tourism.

"There are many countries like Australia which have reverse weather in comparison to Pakistan and it can be the prime target for us to attract tourists from those countries," said Polani.

However, former interior minister Chaudhry Nisar Ali Khan recently expressed concern over the policy of on-arrival visa in the National Assembly.

Security is a real problem and Pakistan should be cautious about embracing international tourists. But the country has no choice but to invite to give cushion to its dying tourism industry, industry experts say.

"Pakistanis feel that getting the visa of other countries is difficult, however, getting Pakistan's visa is also very tough," said Malik.

"The US consul general in Karachi says Washington gives Pakistanis a five-year multiple-visit visa while Pakistan reciprocates with only three-month visa that too after a difficult process," Polani said.

Published in The Express Tribune, February 7th, 2018.

Like Business on Facebook, follow @TribuneBiz on Twitter to stay informed and join in the conversation.