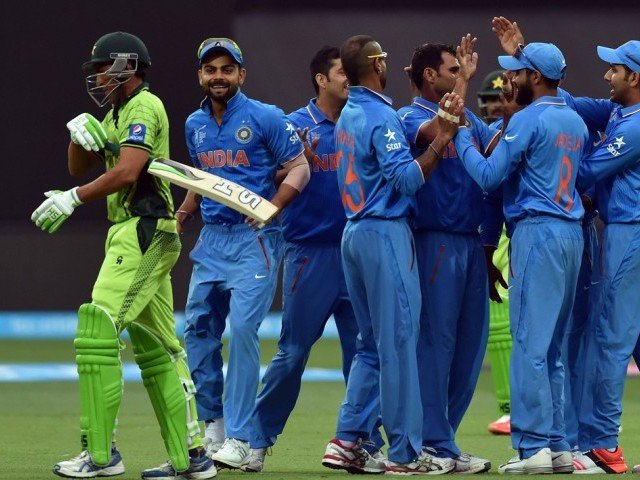 ---
Such is the cricketing rivalry between Pakistan and India — fuelled over seven decades by war, hatred, political turmoil and some of the most enthralling matches the world has ever seen — that a multitude of egos would be hurt at the very suggestion that both teams stand to learn from each other. But stand to learn they do, no matter how much that thought grates at our sensibilities.

India are miles ahead of Pakistan in both Tests and ODIs — first in Tests and second in ODIs as compared to Pakistan's seventh ranking in Tests and sixth in ODIs. It is only in the shortest format of the game that first-placed Pakistan can claim a better ranking.


U19 World Cup: India thrash Pakistan to book final berth


Such is the nature of offensive notions that people would rather grasp at whatever straw they can find to explain them away — doing whatever they can to dismiss them so as not to be troubled by them.

So let's get those explanations out of the way first. Pakistan do not play at home and India win most of their matches at home. Pakistan's creatively named Pakistan Super League is in its infancy while India's equally creative Indian Premier League (IPL) is the biggest in the world; of course their production line is better than Pakistan's.

The Board for Control of Cricket in India is bigger and more powerful than the Pakistan Cricket Board and can therefore force teams to play them on their own terms.

The Champions Trophy final showed Pakistan are still better than India.

Pakistan have the superior head-to-head record against India. There will also be the occasional non-coherent scream along the lines of 'Muhammad Amir is way better than Jasprit Bumrah' and 'Ravichandran Ashwin is only good on spinning tracks'.


U19 World Cup: Afridi stars as Pakistan humiliate Ireland


Valid arguments all of them, yet none take away from the painful fact that Pakistan do have a lot to learn from India. And who better to learn from than your next door neighbor and biggest rival.

Anyone with even an arbitrary knowledge of Indian and Pakistani cricket would tell you that India produces the batsmen and Pakistan produces the bowlers. Merely suggesting that Pakistan should improve their batsmen would be about as fruitful as teaching a cat to fly.

Instead, Pakistan must pay close attention to the finer details of Indian cricket, details that have been chiseled and honed to near perfection in the past decade or so, details that have helped India move forward at a pace that Pakistan just have been unable to match.

The biggest different and lesson comes in the fitness department. Lean, mean machines have replaced the bulky and cumbersome men who once wore the Indian blue back in the day.

The likes of Hardik Pandya, Virat Kohli and Ravindra Jadeja pride themselves on their fielding; visibly enjoying the task at hand.

In contrast, Pakistan's players have scarcely improved since the 90s. Slower in the field, slower between the wickets and often slower between the ears, Pakistan often find themselves unable to cope with the new breed of Indian cricketer.

Some would argue the focus on fitness and fielding has come about due to the IPL. Its riches have motivated youngsters to spend longer hours in the gym. Others would point out that Pakistan too have been trying to inculcate a culture of fitness, but the harsh reality is that there is a visible difference in fitness and fielding effort between the two sides. At the highest level, such small margins are often enough to seal the fates of matches.

India's propensity to make difficult decisions at the right time is also commendable.

The certainty with which they handled the changing of the guards from MS Dhoni to Kohli showed a clear plan for the future and an unerring will to bring that plan to fruition.

Pakistan, on the other hand, opted to give the captaincy to Azhar Ali after Misbahul Haq's resignation because Sarfraz Ahmed's personality and thought process meant a much bigger jump and adaptation process.

And hence Pakistan dallied for a couple of years while India surged forward; enjoying both the calming presence of Dhoni and the overwhelming intensity of Kohli while Pakistan suffered from the confusion that came with having a captain who wasn't ever an automatic starter.

While India's production carousel is indeed much faster and efficient than Pakistan's, their squad-building process is also far superior.

Over the years, they have developed a set of players that not only have the talent to thrive at the international level but also the exposure, composure and mental toughness to do so.

The IPL has helped a lot in this but so has India's canny ability to gel new players into the side.

While Pakistan continue to force square pegs such as Azhar into round holes such as the ODI captaincy, India have gone with the horses for courses method.

India's specialist Test batsmen, such as Cheteshwar Pujara, aren't allowed anywhere near the coloured kits.

Pakistan, on the other hand, have insisted upon playing the likes of Asad Shafiq and Azhar even when it had become clear to all that the limited-overs formats are alien to them.

The argument that Pakistan just didn't have better players available is negated by the hitting abilities shown by the likes of Fakhar Zaman, Sharjeel Khan and Aamer Yamin since they have been given a chance to impress.

For all of the criticism India receive for their away performances, they have specific players that have very specific skills that make them ideal for certain conditions. Their use of wrist-spinners Kuldeep Yadav and Yuzvendra Chahal ahead of Ashwin and Jadeja against South Africa has shown just that.

To put it simply, India have adapted with the changing of the times; taking the T20I era to adapt their ODI and Test game to play a brand of fearless cricket that was once the pride of Pakistan.

Pakistan, on the other hand, have been so scared to take the leap for so long that the chasm below seems to grow with every passing second. May they learn from their eternal rival; there is no shame in that hope.
COMMENTS (4)
Comments are moderated and generally will be posted if they are on-topic and not abusive.
For more information, please see our Comments FAQ