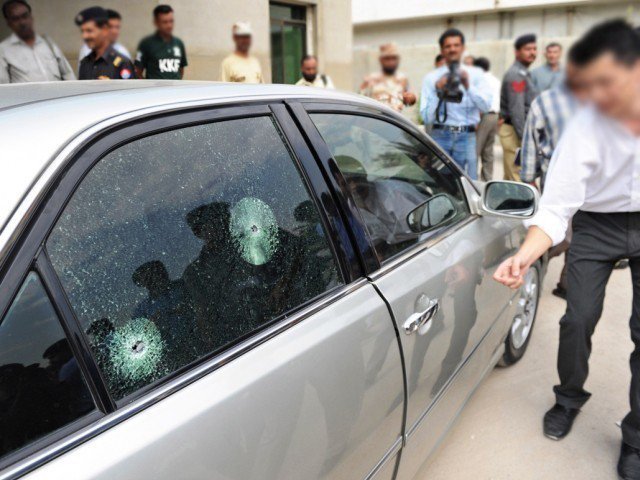 ---
KARACHI: Police investigators have sped up their investigation probing a broad daylight incident of targeted killing of a Chinese national in Karachi's upscale neighbourhood. However, they have failed to make major headway in the case.

The investigators, however, have acquired nearly 10,000 mobile phones' calling data from the crime scene as well as acquired data of the mobile phones of the deceased Chinese national and his comrade who survived the attack.

The investigators have obtained a forensic report of the empty shells of the 9mm pistol used in the targeted killing of the Chinese national. However, the ballistic cross matching report suggests that a new weapon was used in the incident having no previous record.

Chinese national shot dead in Karachi

A 46-year-old Chinese national, Chen Zhu, who was serving as the managing director at a non-CPEC related private shipping firm in Karachi was shot dead in broad daylight in an incident of targeted killing in Clifton's Neelum Colony on Monday afternoon at around 3:52pm. His companion, Ye Fan, a young trainee of the company, however, had survived in attack.

After having lunch at China Town restaurant, Zhu and Fan moved towards Neelum Colony opposite Zamzama Park and were about to sit in their car outside a vegetable market.

Inspector-General Allah Dino Khawaja has appointed Counter-Terrorism Department (CTD) in-charge Raja Omar Khattab as the investigation officer of the case.

With the help of geo-fencing, police investigators have obtained the data of nearly 10,000 phone calls made before and after at the surroundings of the crime scene. They have also acquired the data of the mobile phones of Zhu and Fan.

The nuances of CPEC

"We have collected data of some 10,000 phone calls and are now scrutinizing it," said a senior police officer privy to the investigation.

The police investigators also seized the deceased's mobile phone for examination.

Police investigators believed that the deceased Chinese national was filming some places or buildings while stopping his car at Neelum Colony when the incident occurred, adding that they are trying to ascertain the reason behind this.

"So far, we have learnt that the deceased was interested in photography. We have found pictures of fruits, vegetables, taxis, trucks and daily life in Pakistan in his mobile phone," a senior investigator revealed.

The CTD investigators, however, have yet to record a formal statement from Fan who had survived the attack.

The investigators are also trying to ascertain whether the Neelum Colony area where the incident took place was on their route or not. They added that they were trying to ascertain the reason for violation of the security SOP for carrying police guards as the Chinese nationals were travelling without police guards.

Khattab said that the CTD has made its focus only on the arrest of the perpetrators and the assailants behind the incident. The case was registered against unidentified persons at the CTD while further investigation is under way.