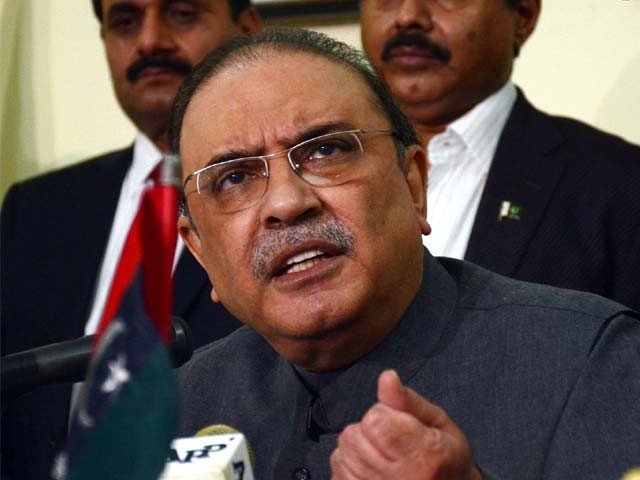 ---
LAHORE: [fbvideo link="https://www.facebook.com/etribune/videos/2194643160552698/"][/fbvideo]

Calling the Sharifs 'thieves of the nation', the Pakistan Peoples' Party (PPP) Co-chairman Asif Ali Zardari has said even God will not forgive 'us' if the rulers are allowed to 'escape' this time.

"Now they [the Sharifs] will have to quit politics because they have been caught looting the country. They are thieves of the nation and if they are allowed to escape this time, God will not forgive us all," Zardari said on Monday.

The PPP co-chairman who was addressing a public gathering at Lahore's historic Mochi Gate in connection with the Kashmir Solidarity Day fired a broadside at both the deposed premier Nawaz Sharif and his younger brother and the Punjab Chief Minister Shehbaz Sharif and said he could not believe they are stupid.

Nawaz wants to derail democracy: PPP leaders

"They [Sharifs] are not stupid. They are working on a chaos theory just to capture all resources of the country but this time the PPP will let them do," he added.

Zardari said the PPP had managed to get a bill passed from parliament which ensures that no rigging takes place in future.  "The next general elections will be fair and the PPP will win from all four provinces," he claimed.

He also announced that he as well as his son, PPP Chairman Bilawal Bhutto, and his daughter, Aseefa Bhutto, will also contest the National Assembly polls and come to parliament.

The PPP supremo said he did not believe in making false claims. He said he had warned that the PPP is in a position to topple the Pakistan Muslim League-Nawaz (PML-N) government anytime and he proved it by ousting the ruling party from Balochistan.

"I will have to make little effort to topple the PML-N government as their own people are unhappy with their leadership," he said. Zardari said the PML-N government had borrowed three times more debt during the past four years than the total borrowing of Pakistan since its inception.

"Our children have to pay back this debt because their (ruler's) children are not living in Pakistan. The PML-N government has created a very complex situation but the PPP is the only political party that has the capacity and a vision to resolve these issues," he said.

Lambasting Punjab CM Shehbaz Sharif, Zardari said the CM made a stupid mistake by installing coal power plants some 1,100 kilometers away from the port in green agriculture area of the Punjab.

"Some bureaucrats told me that Sharif wanted to install four coal power plants in the area but we strongly resisted his flawed proposals. The coal power plant will ruin agriculture in the area and will badly affect food crops," he said.

Zardari said the ousted premier Nawaz Sharif went to Kashmir on the Kashmir Solidarity Day but he failed to speak a single word in support of Kashmir cause.

"He [Sharif] calls himself a Kashmiri but he has no sympathies for people of Kashmir. If he does not want to speak on Kashmir then what is the purpose of visiting Kashmir on the Kashmir Day," he asked.

He said the PPP's slain chairperson Benazir Bhutto had taken up the Kashmir issue with former Indian PM Rajiv Gandhi when he visited Pakistan. "Gandhi told her that neither General Zia ul Haq nor any other Pakistani leader presented this issue in such an effective manner. He had promised her to take up the issue after his election but unluckily he was assassinated," Zardari said.

PTI to issue white paper on Sindh government's corruption

The former president said the PPP during its last government had once again taken up the Kashmir issue with former Indian PM Manmohan Singh. "Former PM Yousaf Raza Gillani had also tried to engage Indians over Kashmir issue," he added.

Zardari pointed out that Musharraf was planning to sign an agreement with India to compromise over Kashmir issue but the Pakistan Army strongly opposed his proposal.

"Earlier the PML-N government told the court that it did not have any objection to allowing Musharraf to go abroad but now they are saying they will bring him back for trial. They have government in half of the country but still they have failed to hold him in the country," he added.

He said Musharraf was willing to share power with Benazir Bhutto but she preferred to choose a difficult path just for strengthening democracy in the country. Now no military dictator can dare to think about toppling government in Pakistan, he added.

Speaking with reference to the multi-billion dollar China-Pakistan Economic Corridor (CPEC) project, Zardari said it is the first pillar of a big dream. "It will make Pakistan a regional economic power but the present rulers lack vision. China is importing over $2 trillion food products from different parts of the world but Pakistani businessmen cannot even export sugar," he added.

The PPP senior leaders Yousaf Raza Gillani, Raja Pervez Ashraf, Aitzaz Ahsan, Chaudhry Manzoor, Manzoor Wattoo, Qamar Zaman Kaira and others also addressed the rally. They expressed their solidarity with people of Kashmir and their freedom struggle.


COMMENTS (2)
Comments are moderated and generally will be posted if they are on-topic and not abusive.
For more information, please see our Comments FAQ