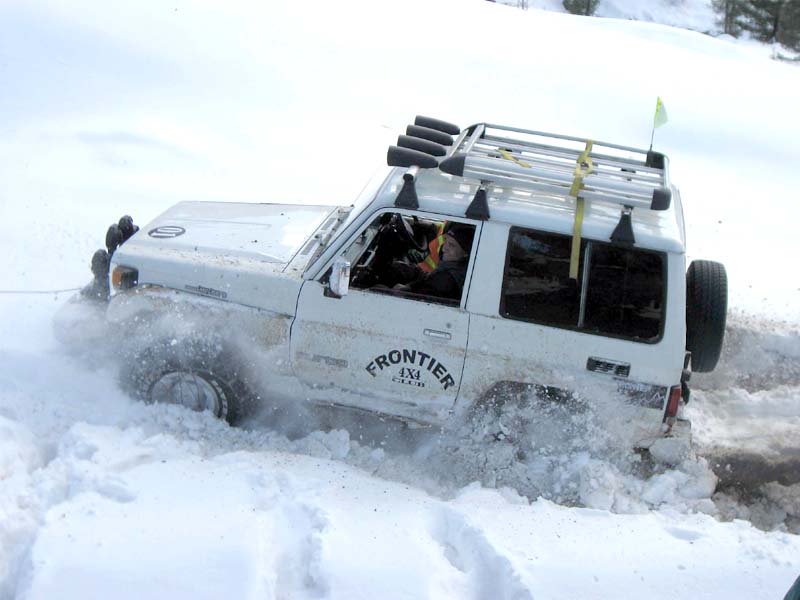 ---
To demonstrate that Swat does not just offer some eateries along a river and a ski resort, a jeep rally was held in the scenic valley on Sunday.

Expert drivers used jeeps, fitted with special tyres, to plough through the dense snow in a battle of grease, engines, wits and extreme skill.

The thrilling Snowcross Jeep Rally was held at the Shahi Ground at the Kalam hill station on Sunday. It had been jointly organised by the Tourism Department of Khyber-Pakhtunkhwa, Pakistan Army and the Islamabad Jeep Club (IJC).

The rally had been managed by the Swat district administration with the aim of providing a platform to young and budding jeep enthusiasts in the country who wanted to race on a terrain similar to that found in some European countries.

A large number of spectators thronged to the venue to catch a glimpse of the rare event.

Racers from as far away as Islamabad and Lahore joined others from Peshawar to pit their skills against the tough terrain and against one another.

The participants had been divided into four categories based on the power of the engines they sported from the heavy 3,500CC, 2,651CC to 3,400CC, to the lighter 2,600CC and below. There was also a category for women racers who were participating in the event.  Amir Saeed clinched the first position while Raja Anwar came in second. Liaqat Ali grabbed the third position in the race.

Later, Lt-Col Ayaz Wali gave away the prizes to the position holders.

Published in The Express Tribune, February 5th, 2018.