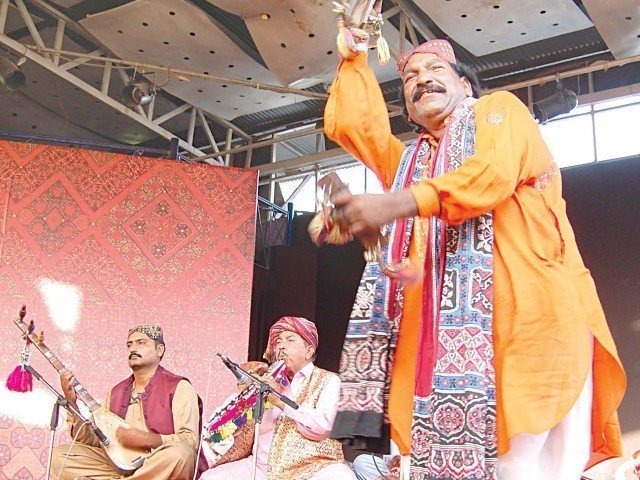 ---
ISLAMABAD: The National Institute of Folk and Traditional Heritage, Lok Virsa, marked three years of its progressive strategy by launching a website for music recorded at its studios.

The event reviewed each component of Lok Virsa's strategy and progress such as "rebuilding cultural identity", "reclaiming cultural spaces", "strengthening Lok Virsa", "linkages with cultural institutions" and "promoting diversity and pluralism".

A large multimedia screen was used to play presentations,  short video clips, interviews, before and after visuals, demonstrating the progress made over the past three years.

The audience was particularly excited to see the launch of Lok Virsa's digitized archives during the segment on Lok Virsa's strengthening.

These archives, officials said,  can be accessed online from anywhere in the world.

The segment also saw the launch of "Lok Tunes", a website (www.loktunes.com) featuring all of the recordings of famous artists who were recorded at Lok Virsa.

UN Resident Coordinator and UNDP Resident Representative Neil Buhne said that he was already listening to local music on Lok Tunes.

The evening was a fusion of discussion as well as music.

Stars from Lok Virsa's "Open Mic" stars took to stage and performed a folk medley during a segment on "reclaiming cultural spaces".

During the segment, renowned film director Syed Noor described the "Mandwa Film Club" as a concept which is not only helping to revive the culture of film screenings but was also helping to remind the new generation about the real "Mandwa".

Lok Virsa's dance troupe "Jamalo" paid a tribute to vintage cinema by performing to the classical song "Socha tha Pyar na Karen Ge".

In the segment on promoting diversity and pluralism, members of the ethnic Hazara community thanked Lok Virsa for setting up a diorama at the heritage museum on Hazaras — the first and only diorama of its kind anywhere in the world.

Published in The Express Tribune, February 5th, 2018.