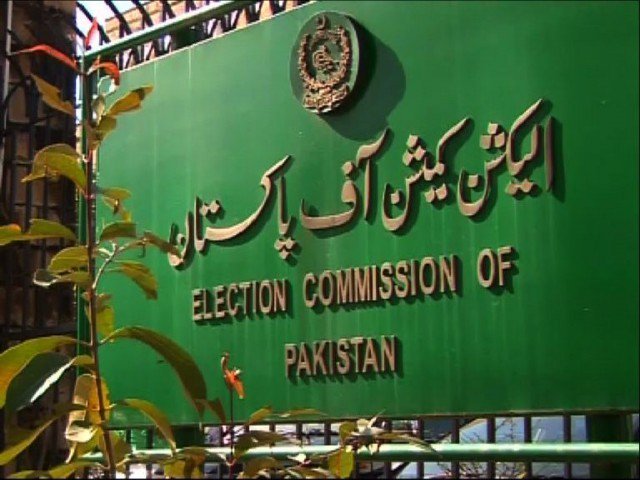 ---
ISLAMABAD: The Pakistan Muslim League-Nawaz (PML-N) is mulling over awarding tickets to Sartaj Aziz and Mushahid Hussain Sayed for the Senate seats from Islamabad.

The Election Commission of Pakistan on Sunday issued the Senate election schedule for two seats of the federal capital following grant of related approval by President Mamnoon Hussain.

One general and one technocrat seat of Islamabad is falling vacant on March 11 due to the retirement of Pakistan People's Party's Osman Saifullah Khan (general seat) and former Pakistan Muslim League-Quaid-e-Azam leader Mushahid Hussain Sayed (technocrat seat). Nine PML-N senators out of 27 are retiring on March 11.

Senate polls to be held for 46 seats on March 3

Earlier on Sunday, Mushahid announced his joining the PML-N after he met with party chief Nawaz Sharif at Jati Umra in Lahore.
The names of Planning Commission Deputy Chairman Sartaj Aziz and Mushahid Hussain Sayed are under consideration as PML-N candidates from Islamabad for Senate, The Express Tribune has learnt.

Aziz remained PML-N's senior vice-president but has not been assigned any party portfolio after Sharif restructured the PML-N's Central Working Committee and Central Executive Committee in December last year.

Mushahid was PML-Q Secretary General but quit the position in January last year amid reports that Sharif, the then prime minister, wanted to elevate Sayed as foreign minister but he reportedly declined the offer to accept ministerial responsibility while being part of an opposition party.

Apart from Islamabad, consultations in the ruling camp are on to pick candidates from the four provinces and the Federally Administered Tribal Areas.

"Some choices are obvious," commented a PML-N lawmaker regarding the PML-N's possible picks in Punjab.

The party leadership is likely to nominate Asif Kirmani and Ishaq Dar for re-election on the Senate's general and technocrat seats, respectively, from Punjab, the source said.

Moreover, the party leadership is also likely to nominate Statistics Minister Kamran Michael on non-Muslims seat for his re-election in the Senate, in addition to retaining Nuzhat Sadiq on women's reserved seat.

The option to bring Tahira Aurangzeb as a candidate on another women seat in the Senate from Punjab is also under review, it is learnt.

Aurangzeb is presently the PML-N's Member National Assembly on women seat. She is the mother of State Minister of Information Marriyum Aurangzeb.

Senate elections to be held on March 3: ECP

In Khyber-Pakhtunkhwa, the name of party's former provincial president Pir Sabir Shah is under review, party sources said.
Other candidates backed by different lobbies led by Prime Minister's Aviation Adviser Sardar Mehtab Ahmad Khan, PML-N's Provincial President Ameer Muqam, National Assembly Deputy Speaker and PML-N K-P General Secretary Murtaza Javed Abbasi are also reportedly under consideration.

PML-N candidates for the Senate from Sindh, Balochistan and Fata have not yet been finalised as Sharif is holding consultations to counter the PPP's moves mainly in Sindh and Balochistan, the insiders said.

The PML-N leadership may accommodate the candidates backed by the N-League's aggrieved provincial president in Balochistan, Sanaullah Zehri, who had to quit as chief minister ahead of the no-confidence motion against him in the wake of reported lack of support to him by the PML-N leadership, the party sources said.

With the announcement of the Senate elections on Islamabad's two seats, polls would now be held on 48 out of 52 seats of the upper house on March 3. The election schedule for four Fata seats is yet to be announced.

Earlier, the ECP announced the Senate election schedule for 46 seats of the provincial assemblies, excluding four Fata and two Islamabad seats where the Elections Act 2017 was not extended.

Instead of carrying out the desired legislation, the federal government got a presidential ordinance issued to pave way for the elections on Islamabad's two seats.

A source in the presidency told The Express Tribune, a separate presidential ordinance, called the FATA Ordinance, is expected to be issued soon for the Senate elections on four Fata seats.

The development would imply that the Senate elections on all 52 seats would be held as per the ECP's original schedule.

Speaking to The Express Tribune, Election Commission of Pakistan former secretary Kanwar Dilshad strongly criticised the Ministry of Law and Justice for overlooking Fata and Islamabad in the Elections Act 2017.

He said former law minister Zahid Hamid and incumbent PM's Special Assistant on Law Barrister Zafarullah are responsible for the negligence in this regard.

"There was no need to issue an ordinance had prior legislation been done to extend Election Act in Fata and Islamabad. This is height of negligence. The responsibility be fixed on whosoever is responsible for this debacle and action be taken accordingly."

Under the existing constitutional provisions, no act of parliament can become applicable on Fata without the president's approval but the required legislation to extend the Election Act in Fata should have been done before seeking the president's related approval, Dilshad said.

Despite the introduction of the presidential ordinance, the government would still need to carry out parliamentary legislation to extend the Election Act in Islamabad and Fata since a presidential ordinance lapses after 120 days and can be extended for as many days only once before it lapses permanently, Kanwar Dilshad said.
COMMENTS
Comments are moderated and generally will be posted if they are on-topic and not abusive.
For more information, please see our Comments FAQ