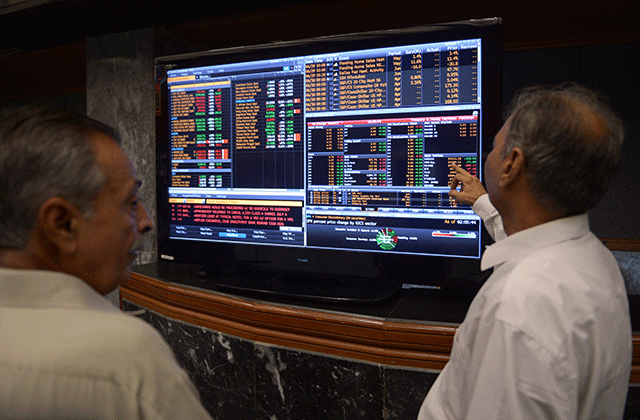 ---
KARACHI: The Pakistan Stock Exchange (PSX), the world's worst performing bourse in 2017, has continued to relax rules to refill life into the lost market.

So far, the strategy seems to have worked as the index has performed well since mid-December.

In its latest move, the front-line regulator; PSX's Regulatory Affairs Committee has proposed to empower itself to become lenient while considering putting listed companies on the 'Defaulters' Counter' and trying its best to avoid putting them on the counter due to their failure in meeting the listing regulations.

Foreign national heads Pakistan's stock market for first time

Shifting companies to defaulters' counter results in suspension of trade in such companies' stocks. This sometimes leads to delisting of the companies and causes heavy losses to traders at the PSX.

The PSX proposed on Thursday that "Restoration of power of PSX to relax action(s) of placement of a company in Defaulters' Segment and/or Suspension of Trading in the Shares of Company pursuant to filing of winding-up petition against such company by Creditor(s) or Shareholder(s) in the Court."

A seasoned broker commented that the proposed amendment in 'PSX Regulations' would avoid playing havoc with investors' capital.

He elaborated that traders heavily invest in listed companies to earn profits, but the front line regulator sometimes surprises investors through moving companies to defaulter counters on a short notice after they fail to meet some petty listing regulations, including delay in submitting listing fee, etc.

"(Listed companies at PSX) should not be delisted at all…the regulator (PSX) has agreed not to delist companies in future," the broker told The Express Tribune.

A counter argument from a market analyst opposed the proposed amendment, as he said leniency with the listed companies over their failure in meeting the existing regulations means 'deregulation of the market.'

Leniency may put investors' money in danger, he said, adding that the failure of companies to meet regulations puts them on defaulters' counters. Later on, when they fulfill the regulation in the given time limit then the companies are restored to normal counter.

PSX was the world's worst-performing market in 2017, as its benchmark KSE-100 Index dropped 15.34% to 40,471.48 on December 29, 2017 from 47,806.97 points on December 30, 2016.

The market would have performed even worse had it not recovered 6.73% in the last two weeks from the year's lowest level of 37, 919.42 on December 19.

The index has since regained a net 16.82% to 44,301.20 on Friday from the recent low of 37,919.42 points in mid-December.

Free float condition to end?

Besides, the PSX's Regulatory Affairs Committee has also proposed to remove the condition of meeting the minimum free float (shares available for trade in the market) of their shares in the market.

Till date, listed companies are bound to make 25% or 5 million shares available as free-float in the market.

PSX ends as world's worst market in 2017

The analyst said some of the companies have kept their free-float size nominal. This may help them 'manipulate' their market capitalisation through artificially fluctuating share prices.

"With the larger free float, it becomes more difficult to manipulate share price and fudge with company financials," he said.

In addition to this, the PSX has proposed to amend laws to bring more transparency into the market through binding companies to disseminate maximum information related to their operations to the shareholders.

"Recently, refineries and independent power producers shutdown their operations due to shift in government policies. However, they did not report it to the bourse, which they should have done in the best interest of shareholders….PSX has noticed this," the analyst added.

Published in The Express Tribune, February 4h, 2018.

Like Business on Facebook, follow @TribuneBiz on Twitter to stay informed and join in the conversation.


COMMENTS
Comments are moderated and generally will be posted if they are on-topic and not abusive.
For more information, please see our Comments FAQ