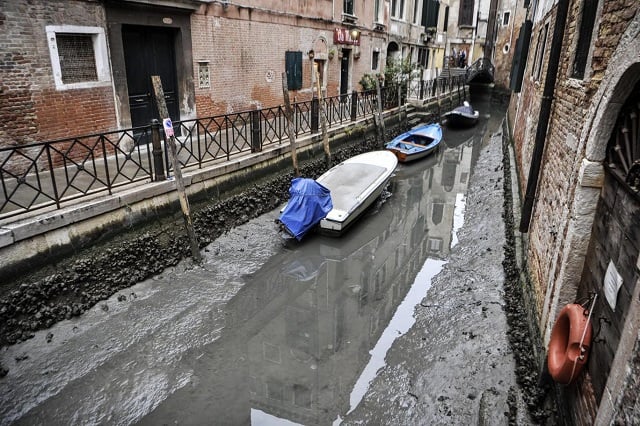 ---
Unusual weather in Venice, Italy has left the city's famous canals dry and muddy.

'Super Blue Blood Moon' lights up night skies in Pakistan

A lack of rain along with low tides caused by the super blue blood moon resulted in water levels to plummet more than 60cm, ceasing gondola and boat operations. Some waterways have shut down completely, while the Grand Canal, the city's major channel continues to traffic water buses,  reported the Independent.




The Italian city is regularly affected by flooding due to high tides – or acqua alta – in the northern Adriatic. However, this isn't the first time Venice has suffered a major dip in water levels.

Water levels shot down by 66cm in 2016, and dropped by 90cm in 2008 and 1989. The lowest record however was set in 1934, when water levels plunged by 121cm.




People on social media who suggested this was a drought were immediately corrected by Italian forecasters. As the rain returns, water levels were expected to recover to normal on Friday.

Much of the world saw Wednesday's rare super blue blood moon, with skywatchers captivated by a partial lunar eclipse.

In case you missed it: 'Super Blue Blood Moon' in pictures

Venice was at risk of incurable flooding which could leave it permanently underwater by the end of the century, according to a report published last year.