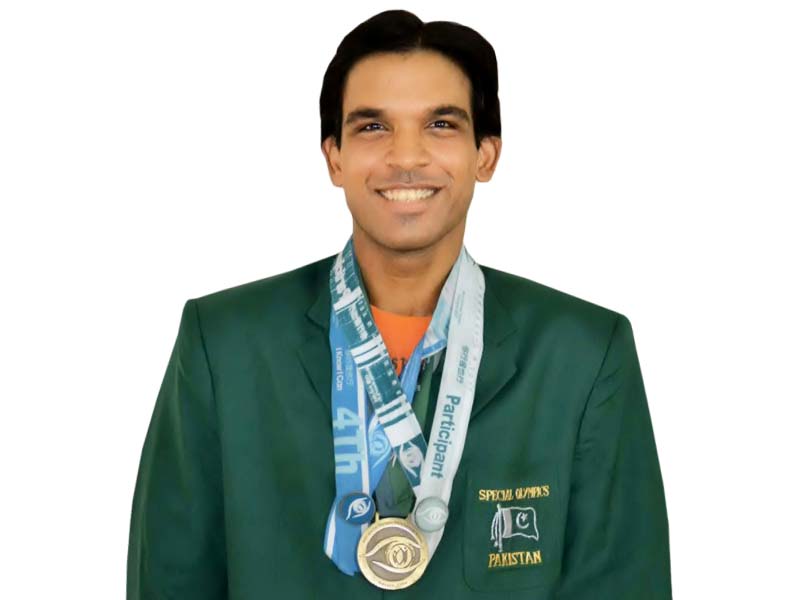 ---
LAHORE: Hussain Subhani is an athlete. He has won 40 gold medals in 100, 200 and 400-metre races and long jump competitions in different cities on the provincial and national levels. He also won a bronze medal in Special Olympics World Summer Games 2007 in 100 metres race.

As a minor boy, Subhani had been suffering from mental illness since he was two years old. In 1999, he was admitted at Struggle Against Disability International Association (SADIA Campus), a philanthropist organisation working for the rehabilitation of differently abled children for the last 18 years. At the time of admission, his mental development was awkward, his behaviour was repetitive and rigid and his eye contact was very poor. He has been through behavioral analysis and received speech therapy. At the age of 10, he could not even speak his name.

"We did not give up and consistently continued the rehabilitation process," said SADIA Campus CEO Syed Amir Shah while sharing the success story.

Subhani is now 26 years old and living a normal life. He is working at an embroidery shop situated in Dhalla.

Moshin Ashraf, 23, has been living at SADIA Campus for the last 18 years. His father, Muhammad Ashraf, is a shopkeeper. Four years ago, his family took him home as he had recovered to a satisfactory level. Moshin started working at his father's shop. "Nearby people, especially young boys, would make fun of him. They would give him chocolates or other items and ask him to tease customers, visitors, women or other shopkeepers. This was fun for them," SADIA Accounts and Administration Director Ashma Munir Hussain said. "But, it proved a turning point and brought Mohsin back to square one, the life he had been living for last 14 years, as the people who were offended due to his activities would complain to his father. Frustrated, the father admitted Mohsin to SADIA Campus again."

Arsalan Ahmer 20, a resident of Samanabad, has been living at SADIA Campus for the past 14 years. "His mother passed away when he was a child and his father also suffers from a mental illness. He has no other place in this world," Hussain added.

It is not just Arslan and Mohsin, in 1998 a census showed that differently-abled children were 2.54% or 3,286,630 of the total population 10 years ago. According to the census, 8,434 such children were in Islamabad, 146,421 in Baluchistan, 375,752 in Khyber Pakhutunkhwa, 929,400 in Sindh and 1,826,623 in Punjab.

As far the nature of the disability is concerned, 8.06% were blind, 7.43% were deaf/mute, 18.93% crippled, 6.39% insane, 7.6% mentally retarded, 8.23% with multiple disabilities and 43.37% with other disabilities.

Hussain said that unfortunately, such children were considered a liability by their families as they do not see a future for them. Sharing a few instances, she said parents were not ready to spend any money on them. "There have been many instances in my career at SADIA Campus in which parents even refused to buy even a petty item for their children, saying that there was no use of investing in them as they were not going to pay ir back," she said.

"The parents would not even bother about their rehabilitation process and take it casually, unlike the education of their children at school. A child once sent to home for a meeting would never be brought back to the campus on time. Most of the time, the campus officials themselves had to send a van to bring the children back."

"Society is also not sensitised to deal with them. They would make fun of them, mistreat or exploit them," she remarked.

Shah said the campus was started by his mother in 1994. "In the beginning, it was just a pharmacy. Later, my mother also started hosting disabled children. In 2004, after her death, I took up her mission. So far we have provided services to 200 disabled children, he said while elaborating how SADIA became a rehabilitation centre.

As many 70 children are still admitted at the campus. Initially, the campus dealt with all forms of disabilities but now it is focused only on mental illnesses.

"Unlike other disabilities, these children are very difficult to rehabilitate as the process involves in very tedious and slow. The learning/rehabilitation does not have any visibility unlike other disabilities," he explained the challenges of rehabilitation.

"There are many children at our centre who are just learning to thread a needle for many years," he added. He explained that there were very little chances of success, however, there were few success stories in his professional career as well.

Published in The Express Tribune, February 3rd, 2018.
COMMENTS
Comments are moderated and generally will be posted if they are on-topic and not abusive.
For more information, please see our Comments FAQ