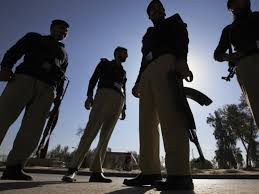 ---
LAHORE: Lahore Police have devised a standard operating procedure for hosting a farewell party, presenting a guard of honour and escorting home with the protocol along with solving the issue pension at the retirement of every police official.

In this regard, DIG Operations Dr Haider Ashraf has issued a notification. The notification pointed out that the retired officers were observed running from pillar to post in different offices for completion of their documents for pension.

"This tedious process not only frustrated them but they also faced financial issues. Considering these challenges, Punjab Police have decided an SOP that would be strictly followed even when they were transferred," Ashraf told The Express Tribune.

According to the SOP, a tea-party would be arranged for the retiring official. All the paperwork must be completed before the retirement of a personnel. Assistant director/accountant pension branch and other departments would be responsible for completion of the documents. They will also resolve the issues faced during the process at AG office.

All the documents would be handed over to the personnel during the tea party organised in his/her honour.

Ashraf said incharge of the branch the official belonged would also be responsible and accountable for the completion of all this process.

"A guard of honour will also be presented to the retiring personnel on the day," Ashraf added. "A police squad will also escort him to his house."

He claimed the decision was unprecedented in the history of the police department. "It is necessary and vital to build the morale of the officials. Retiring police officials deserve admiration and acknowledgement for their services," he added.

Constable Talib Hussain Shah served the department for 36 years. 

Published in The Express Tribune, February 3rd, 2018.
COMMENTS
Comments are moderated and generally will be posted if they are on-topic and not abusive.
For more information, please see our Comments FAQ