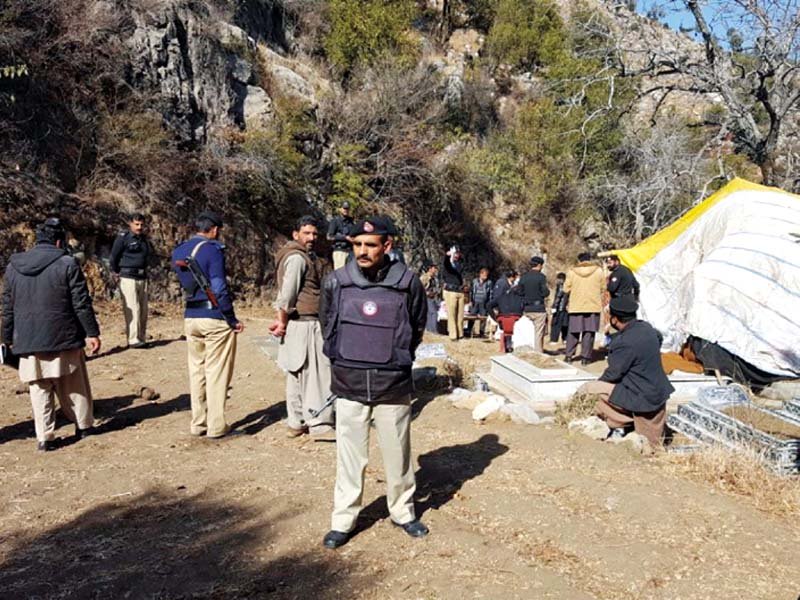 ---
ABBOTTABAD: Police and medical experts in Abbottabad on Thursday first exhumed the body of a girl, who had died under mysterious circumstances and then took samples for tests.

On Thursday morning, the body of the 11-year-old girl was exhumed in the Nagakki village of Abbottabad in the presence of Cantonment police station SHO. Later, an autopsy was carried out by a team of medical experts and a forensic expert at the Abbottabad District Headquarters Hospital (DHQ) who took samples in the presence of the judicial magistrate.

Misbah had been working for a few years at the house of Shoeeb Ghani, the younger brother of Khyber-Pakhtunkhwa (K-P) Minister Mushtaq Ahmed Ghani, in Abbottabad. Last week she was shifted to the hospital with complaints of troubled breathing. Despite efforts by doctors, she passed away. She was buried in her native village on January 25.

Her death sparked a debate in the local and national media, prompting the K-P inspector general of police to form a fact-finding committee. On Wednesday, the Chief justice of Pakistan took notice of the incident and ordered an inquiry into the case. Subsequently, a local magistrate had directed the police to exhume the body.

Parents baulk at 'insult'

The girl's parents, meanwhile, have complained at the 'insult' being meted out to their deceased child, adding that they did not suspect any foul play.

As the post-mortem was being carried out, the girl's father, Kamran, told the media that he did not suspect anyone was responsible for his daughter's death and that she had probably suffered from a defect in her trachea — called "dakka lagna" in the local language. He also pointed to the recent death of his four-year-old son following an asthma attack.

Visibly emotional, Kamran went on to say that the exhumation and post-mortem was a highly "disgraceful act" and an 'Insult', adding that he had told the police and court officials that they had no desire to conduct a post-mortem for the girl nor were they being pressured by Ghani's family.

His close relative added that the case had now been politicised by rivals who were indulging in point scoring at the cost of a family who had just lost a child.

"We treat it [death of Misbah] as the will of God and it had nothing to do with the family where she had worked for a couple of years with her other sister," the relative added.

Autopsy complete

Meanwhile, Canton police station SHO Cadet Abdul Hafeez said that a team of three doctors including Dr Irshad, Dr.Waqar Iqbal and female doctor Nusrat Ara had completed the autopsy in around two and a half hours on Thursday afternoon. 

Published in The Express Tribune, February 2nd, 2018.