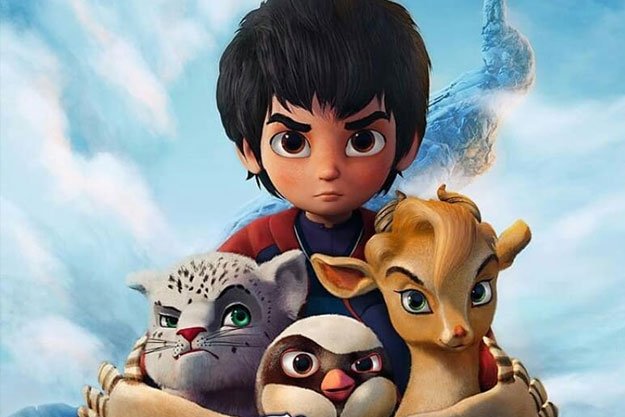 ---
KARACHI: In a land not so far away, there's a species that's hunted illegally. In the last several decades, it was classed as 'endangered.' However, with the recent 'revival,' it has now been relegated to 'Near threatened.' That species is not Markhor; it's storytelling.

Allahyar and The Legend of Markhor, directed by Uzair Zaheer Khan, comes as the latest offering from our nascent film industry. It revolves around the young character Allahyar (voiced by Anum Zaidi) who finds himself escaping the hunter Manu (Ali Noor) and helping a Markhor named Mehru (Natasha Humera Ejaz) reach home.




Kudos to the team for setting a new bar in terms of animation standards in Pakistan. And subsequently, Allahyar challenges other film-makers to step up, in terms of visual quality. Yes, it is not Pixar or Disney or Laika, but the film is a big leap forward and the next logical and organic progression for the animation industry.

However, when it comes to storytelling, it needs as much saving as the Markhor. The first and the biggest problem plaguing Allahyar is the use of Urdu words that are not commonplace. It uses the kind of language children are not used to hearing, expecting them to know phrases like 'himmat-e-marda, madad-e-khuda' among many others. These sound poetic but forget who the film is targeted at.




At several points, Allahyar will remind adult cinemagoers of their childhood. Several characters – such as Rafiki (from Lion King) and Gollum (Lord of the Rings) look-alike monkey to Scar-like wolf – are heavily inspired. However, the comparisons end there. Characters, including Allahyar himself, are weakly defined and the film demands sympathy for most to create an emotional connection. What one needs to realise is that always feeling sorry for someone isn't the way to build empathy in children.

For Allahyar to be the children's new hero, he needs to be vulnerable, yet stand in the face of fear and take charge. For that, he falls just short of being a memorable character, and his supporting characters outshine him easily.




But the film does succeed in delivering important messages and some scenes do stand out. Yet, overall, one doesn't feel emotionally connected to Allahyar. He, who is supposed to be the protector and leader in the story, comes off as passive and in need of protection himself. His journey is intriguing but marred by the plot loopholes in that it borrows from the best but somehow manages to dilute it.

Besides that, a few scenes fall flat on their face while a few others turn out cringe-worthy. Scenes use 'fade' as transitions instead of creatively merging into one another, which hampers the overall experience further.




Another issue Pakistani film-makers have yet to work around is blatant product placement, which not only wastes screen time but also negatively affects the product and film experience. Allahyar makes the same mistake.

Nevertheless, the film, despite its shortcomings, is fun to watch (for children, of course) mainly due to the animation quality and excellent voice-over, especially by Noor and Azfar Jafri as the chakkor, Hero. It is often hilarious but one does leave the cinema hall underwhelmed; sort of like when you go to an amusement park and not ride the Ferris wheel. Allahyar gets a few things right but wasn't exploited to its full potential.

Verdict: Go watch it for the excellent visual quality. But parents, be ready to answer your children's questions, specifically regarding the difficult language.

Rating: 2.5 out of 5 stars

Have something to add to the story? Share it in the comments below. 
COMMENTS (5)
Comments are moderated and generally will be posted if they are on-topic and not abusive.
For more information, please see our Comments FAQ