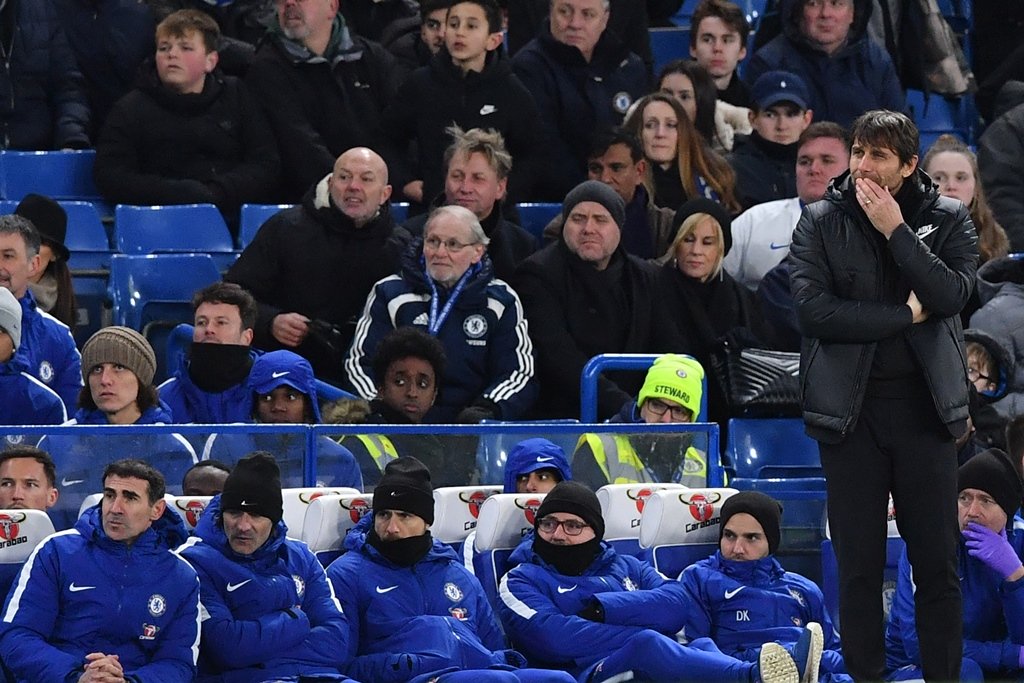 ---
LONDON/ MANCHESTER: Antonio Conte had no doubt the pressure on his position would intensify after his Chelsea side's stunning 3-0 defeat by Bournemouth at Stamford Bridge on Wednesday.

The Blues head coach insists his Chelsea team, the reigning Premier League champions, are over-achieving this season — but claims he is "relaxed" if members of the club's hierarchy view things differently.


Swansea dampen Arsenal's top-four hopes, Liverpool thrash Huddersfield


Defeat left Chelsea in fourth place in the Premier League, just two points above Tottenham Hotspur and Conte accepted there were concerns over whether the Blues would qualify for next season's Champions League.

"The pressure, it's normal. It's normal for a coach, for a manager," Conte said. "It's normal if you are Chelsea's coach. After the first game this season, you (the media) tried to put pressure on my job. But I'm trying to do my best."

The Italian added: "If someone doesn't think this club deserves this table (position) or deserve this situation. I repeat: we are doing everything, we are doing 120%. I'm exploiting this squad at the maximum level. But, if someone doesn't agree about this, I'm here. I have to accept every situation. I'm very relaxed about this. I know that I'm doing a great job, a great work, me and the staff and the players."

Mourinho slams his flops after Spurs loss

Jose Mourinho accused his Manchester United stars of failing to follow instructions after Christian Eriksen scored just 11 seconds into Tottenham's 2-0 win at Wembley.

United boss Mourinho was furious with his side's sloppy defending as they made a host of mistakes that allowed Eriksen to blast Tottenham ahead with the joint second fastest goal in Premier League history.


Herrera backs fighter Sanchez to shine for United


Phil Jones allowed Harry Kane to win a header from the kick-off and, with the rest of the United defence caught flat-footed, Dele Alli pounced with a deft pass that Eriksen steered home from close-range.

Adding insult to injury for Mourinho, Jones booted a Kieran Trippier cross into his own net midway through the first half to double Tottenham's lead.

United's first defeat in nine league games would have been even more painful had the hosts converted more of the numerous chances they created.

Mourinho had no doubt where the blame lay as he criticised his players for failing to follow the warnings he had given about Tottenham's aggressive start to matches.

"I don't think it is very normal to concede a goal like we did after 15 seconds," he said. "It is especially ridiculous because the players, they watch it before, we analyse opponents and work on opponents' dynamics and routines. The players they knew the long ball, they knew that Harry Kane — before the kick-off, is already inside the opponent's half. We knew everything."

Portuguese then enlisted the mistakes made by his men. "Then we don't press the ball — one mistake. We don't pick the ball in the air — second mistake. We don't win the second ball on the ground — third mistake. We don't cover the inside when Eriksen comes — four mistakes. Four mistakes after 15 seconds and you are losing 1-0 against a good team."

Guardiola repeats call for player protection

Manchester City manager Pep Guardiola urged officials to better protect his star players after a 3-0 victory over West Bromwich Albion on Wednesday.

The result left his side with a commanding 15-point lead at the top of the Premier League but Guardiola was unhappy with a series of challenges, the worst of which saw Matt Phillips booked for a high-flying lunge at young City substitute Brahim Diaz.

"I've said what I said so we spoke with Kevin, the fourth official," Guardiola told reporters. "They have an opinion, I have another one, and they're the bosses. I accept that. I have to accept it. Today we were lucky, three or four days ago we were unlucky with Leroy. The image speaks for itself. I could repeat what I said after the last game but it's not necessary. The chat was good, that's all."
COMMENTS
Comments are moderated and generally will be posted if they are on-topic and not abusive.
For more information, please see our Comments FAQ