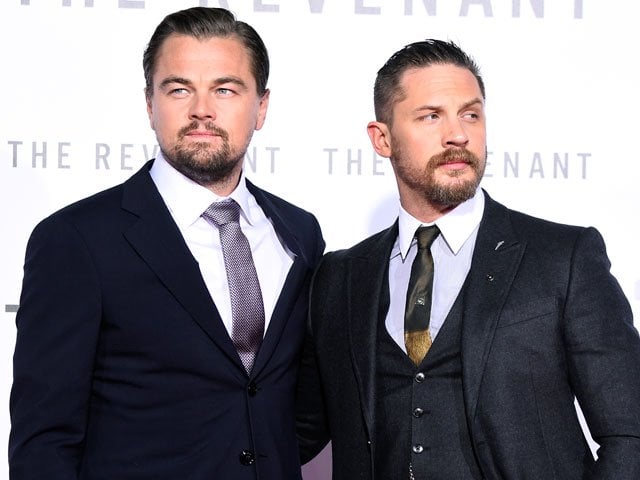 ---
Actor Tom Hardy has "Leo knows all" inked on his bicep two years after losing a bet with Leonardo DiCaprio who designed it.

Hardy, who features in this year's Oscar nominated movie Dunkirk, says he had been putting off getting the tattoo due to DiCaprio's "s**tty handwriting", reports The Sun.

Leonardo DiCaprio to star in a Quentin Tarantino movie

The actors starred together in the 2015 film The Revenant. DiCaprio had then said Hardy would bag an Oscar nomination for it. Hardy disagreed and they decided that whoever lost the bet would get a tattoo of the winner's choosing.

Hardy received a Best Supporting Actor nomination in 2016, and despite not winning he lost the bet.

While Hardy has kept quiet about the statement for a while, a fan's selfie with him revealed the tattoo.


Tom Hardy took a photo with fans recently and we were able to see the tattoo he made because he lost a bet to Leonardo. In the tattoo there is written "Leo knows all" and, according to Tom, it's Leo's handwriting. pic.twitter.com/eBKiEE99sP

— Leonardo DiCaprio Fan (@dicapriofans) January 29, 2018


"Did you notice the 'Leo knows...' tattoo on his bicep? Wasn't that the bet?" one social media user wrote.

Another added, "Leo should be smiling now."

Back in 2015, after the Oscars, Hardy had said he hadn't got the tattoo done because DiCaprio's handwriting was so terrible.

20 years on, 'Titanic' keeps that sinking feeling alive

"He wrote, in this really s***ty handwriting, 'Leo knows everything'. I was like, 'Okay, I'll get it done, but you have to write it properly.'"

The Academy Awards 2018 nomination list has eight nods for Hardy.

Have something to add to the story? Share it in the comments below.