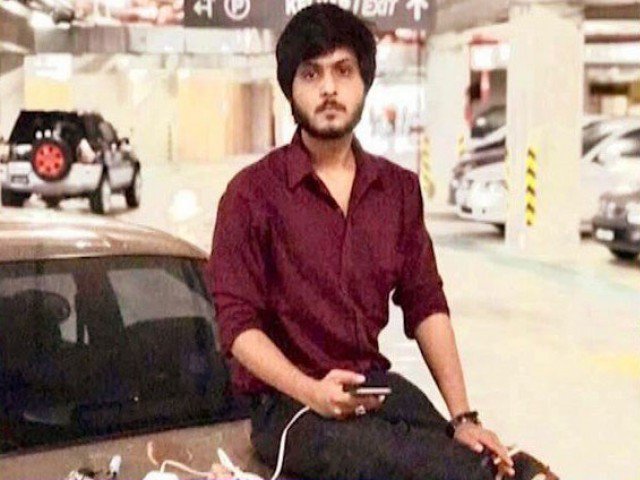 ---
KARACHI: Closed-circuit television (CCTV) footage of Intizar Ahmed's last moments before he was shot dead by Anti-Car Lifting Cell (ACLC) personnel in Defence Housing Authority (DHA) surfaced on Sunday.

The video shows ACLC officials in two cars and two motorcycles stopping Intizar's car and checking inside to confirm his presence before opening fire.

According to the victim's father, the complete footage has yet to be provided. He added that the available footage suggests it was a 'planned' murder.

Intizar was shot dead on January 13 on Khayaban-e-Ittehad after officials and personnel of the ACLC resorted to indiscriminate fire on a white Corolla, killing the victim on the spot. Although the police had initially claimed that the boy was killed in an act of targeted killing by at least two armed assailants riding a motorcycle, it was later revealed that the ACLC officials and personnel were behind the brutal killing.



The police have obtained the initial forensic report of the weapons used in the incident, which revealed that two 9mm official pistols were used. Officials said that one weapon fired 12 rounds, while the other fired six. Meanwhile, Pakistan Tehreek-e-Insaf Chairperson Imran Khan arrived at the victim's house to pay condolences.

Intizar murder case: Girl breaks silence on DHA shooting case




PHOTO: EXPRESS

Addressing the media after meeting Intizar's family, Imran said that Intizar's family had every right to speak up and seek help if they were not happy with the police investigation. "It was a cold-blooded murder," Imran said.

Meanwhile, Ishtiaq Ahmed, Intizar's father, condemned the news spreading in media about the registration of a case against Intizar at the Airport police station in 2016. "Yes, a minor scuffle between Intizar and the Airport Security Force had occurred at the Karachi airport," he admitted. However, he said it had nothing to do with his son's killing. The case was registered at the Airport police station in 2016 against Intizar on behalf of the state for not cooperating with and threatening the ASF personnel.

Ishtiaq appealed to the media to not connect the story with his son's killing. Nor should they highlight the involvement of another girl, Laila. "We don't know who Laila is. Even my son also didn't know her. But some people are trying to weaken the case of my son's killing by spreading such news," he said.