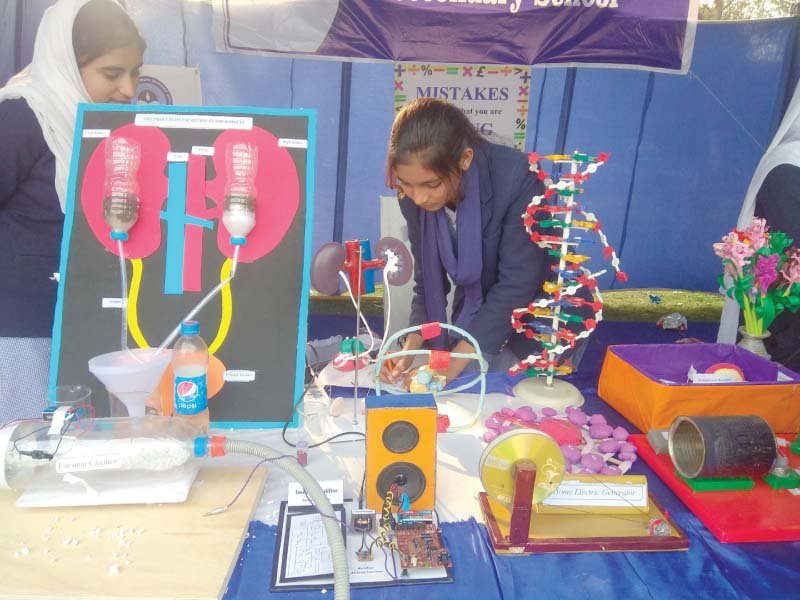 ---
LAHORE: Children of all ages enthusiastically experienced different aspects of science in action and participated in experiments and models set up at the Lahore Science Mela.

The two-day event kicked off at the Ali Institute of Education on Saturday where 70 exhibits were set up and children from all parts of the country took part.

On the first day of the festival, more than 8,000 students, parents and science enthusiasts visited the festival.

While inaugurating the festival, Ali Institute of Education Chairman Syed Babar Ali said, "I wish and pray for our children, who take part in scientific activities. Science enthusiasm is not innate; science is observation and hard work and we are trying to bring the spirit of experimentation in our child which is the idea behind the Mela."

Students exhibited more than 70 science models, displaying their passion for science and technology and introduced innovative concepts for visitors. Interactive displays and live experiments, some of which involved lunar and solar observatories, robotics, and 3D printing caught the imagination of young minds.

Eleven-year-old Moiz Mudassar surprised observers by extracting DNA from fruits; which was not only an element of surprise, but also a source of inspiration to other children.

Speaking to The Express Tribune, Dr Sabieh Anwar, one of the organisers of the festival, said that the purpose was to promote science and connect people with it. "The Mela is part of our culture and has been a social norm for centuries. Science is considered a dry subject and is bound to just books. We want to make it accessible to our children as being fun and interesting."

Published in The Express Tribune, January 28th, 2018. 
COMMENTS
Comments are moderated and generally will be posted if they are on-topic and not abusive.
For more information, please see our Comments FAQ