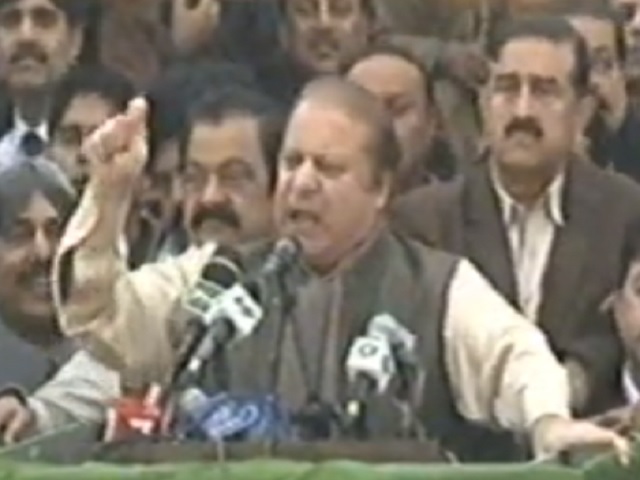 ---
LAHORE: [fbvideo link="https://www.facebook.com/etribune/videos/2182920881724926/"][/fbvideo]

Former prime minister Nawaz Sharif repeated his criticism of the judiciary at a public gathering on Saturday and took a step ahead, saying people would not accept if he was disqualified from holding the party office.

Addressing a charged crowd of supporters in Jaranwala, Sharif, the president of the ruling Pakistan Muslim League-Nawaz (PML-N), said that his holding party office was protected by the law.

"If I am disqualified from party presidency, people of the country will reject [it]," he said.

He criticised the July 28, 2017 judgment of the Supreme Court. He posed a question that millions of people made him the prime minister "how could just five people [judges] disqualify me. Where is the sanctity of your vote?"

Elections will be held on time: PM Abbasi

He said it did not matter anymore if he was disqualified for five years or for life but. He asked the people to support him in his mission of restoring sanctity of the vote. He told the gathering that he would start a movement for provision of cheap and swift justice.

The former PM was surrounded by several federal, provincial and state ministers at the rally but it did not prevent him from criticising the performance of his own party's government. "Pakistan now faces economic instability, price hikes, and a deteriorating security situation," he said.

Additionally, he continued, drone attacks had started again, which was "not the case" when he was the prime minister. He said during his premiership everything was brought under control.

Elections 2018: Delimitation exercise hangs in the balance

Sharif said the love of the people for him was not conditional to any decisions. "People showing up in large numbers in this rally is a referendum. The PML-N victory in the next elections will be a referendum [vote in favour of] a new Pakistan."

Turning his guns towards his political rivals, he compared his "massive public" gathering to the "empty chairs" at the rally organised earlier this month by Pakistan Awami Tehreek (PAT) chief Dr Tahirul Qadri in Lahore.




He said Pakistan Tehreek-e-Insaf (PTI) chief Imran Khan had been declared an honest person, despite his stories being the talk of the town. "But I am disqualified just for not taking salary from son. Is this a crime?"

The PML-N president reminded the people that he had fulfilled all his promises and asked them to vote for his party. In the next government, he said, he would provide jobs and houses to the lower middle class people. He added that the party had a comprehensive plan in this regard.

He also promised that he would ask Punjab Chief Minister Shehbaz Sharif to declare Jaranwala a district. He praised the performance of Shehbaz-led Punjab government.

Next general elections: PTI spurns alliance with Musharraf's party

Speaking earlier, Sharif's daughter Maryam Nawaz also repeated her tirade against the judiciary. She said three generations of her family were held accountable. She alleged that there were double standards in the case against Sharif and the one against Imran Khan.

"Do you want a Pakistan where votes have little value, where dictators who broke our Constitution go scot-free, but our prime minister is called names like don, Sicilian mafia. If you don't want such a Pakistan, you need to support Nawaz Sharif," she said.

Six injured in stand collapse

Six people sustained injuries when a stand set for speakers fell on the participants. The injured were taken to the Tehsil Headquarters Hospital Jaranwala and others hospitals in Faisalabad. None of the injuries were stated to be serious.

According to the organisers of the rally, the stand caved in after people climbed on it to get a better view of the main stage.