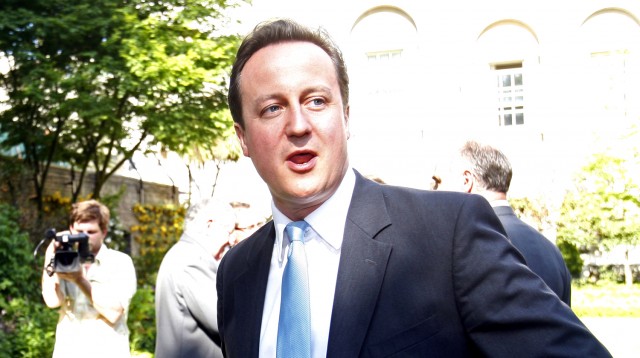 ---
LONDON: British Prime Minister David Cameron pledged on Tuesday to "ratchet up" pressure on Iran, which he said was clearly intent on building nuclear weapons.

In his first speech to parliament since taking office after the May 6 elections, Cameron said he had spoken to French President Nicolas Sarkozy and German Chancellor Angela Merkel about fresh EU and UN sanctions against Tehran. "All the evidence points in the same direction – that Iran is intent on developing nuclear weapons," he told lawmakers, after the monarch outlined his Conservative – Liberal Democrat coalition government's legislative programme. Cameron added: "For the last six years we have pursued a twin-track policy offering engagement but being prepared to apply pressure. I believe it is time to ratchet up that pressure and the timetable is short.

This government has a clear objective to ensure stronger UN and EU sanctions against Iran." Iran agreed to a deal last week with Turkey and Brazil under which it would ship some low enriched uranium to Turkey in return for higher grade fuel for a research reactor. Western governments have been dismissive of the deal, saying it fails to address international concerns about Iran's nuclear programme, which Tehran insists is peaceful but major powers believe is aimed at building a weapon. "Even if Iran were to complete the deal proposed in their recent agreement with Turkey and Brazil, it would still retain around 50 per cent of its stockpile of low-enriched uranium," Cameron said. "And it is this stockpile that could be enriched to weapons-grade uranium," he added.

Meanwhile, US Secretary of State Hillary Clinton said on Tuesday that Iran's letter of notification to the UN atomic watchdog on a nuclear fuel swap deal brokered by Turkey and Brazil had "a number of deficiencies." "We discussed at some length the shortcomings of the recent proposal put forward by Iran in its letter to the International Atomic Energy Agency," Clinton told reporters following two days of strategic talks with China.

Published in the Express Tribune, May 26th, 2010.
COMMENTS
Comments are moderated and generally will be posted if they are on-topic and not abusive.
For more information, please see our Comments FAQ