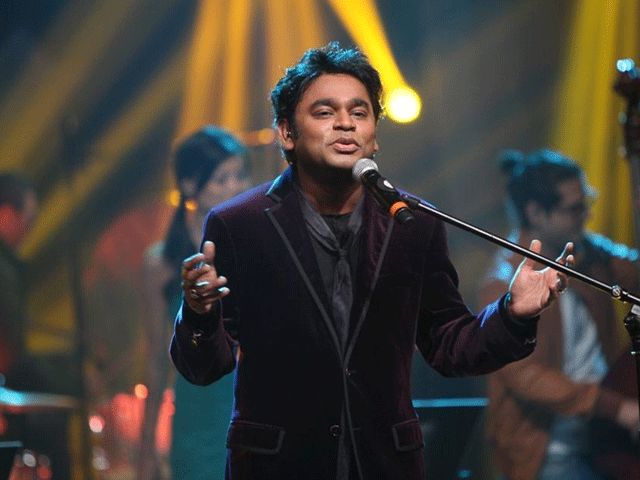 ---
DUBAI: Oscar and Grammy-winning Indian composer A R Rahman completed 25 years in the industry this year. To celebrate this journey, Rahman will be doing a concert in Dubai, where thousands of his fans can see him perform live. It is being said that it will be the largest stage ever to be constructed in the region, spanning over 300 feet. There will be more than 25-30 musicians supporting him at the event.

Rahman spoke to the press and media in Dubai in this connection and stated that, "When I started music, it was very internal. How can you make it shine; how can you make it yours? Expectations are there…look at him, what's he going to do next? They are a blessing and a curse. But they keep me going through."




Of his most memorable moments in the industry, the Dil Se musician answered, "Getting the exposure throughout the world has been amazing. My first movie released on my marriage day. Then there was the launch of Bombay Dreams in London, the Oscars, the success of Slumdog Millionaire." Needless to say, Rahman put India on the global map in terms of music and entertainment.

But there are still many struggling artists in the music industry, all over the world, who have not been able to achieve the same level of success. When asked about advice that he would like to give them, Rahman said, "Look at yourself now, where you stand with all the people around you. Are you standing out? Are you disappearing? Ask yourself what will make you stick out. It won't take one day; maybe it will take two days or maybe two years….Maybe even 20 years. But come out with a strong personality and something to contribute. Instant success never comes."




Rahman also talked about his inspirations in the music industry. "I feel really, really lucky and blessed that I got to work with people who pushed me to fulfill my potential," he said. "Directors like Mani Ratnam, Subhash Ghai, Ram Gopal, Danny Boyle and now Imtiaz Ali ... it's been a very exciting journey."

So how did a man from humble beginnings, with no connections in Bollywood, rise to fame and international success? Rahman said his parents always pushed him in the direction of what he was good at. "My father and mother helped me pursue this. A typical Indian family wants their boy to be a doctor or an engineer – my mother was completely the opposite. She told me to go after my music."

Despite his astounding success, Rahman remains as humble as ever and believes in giving back to the community. He has set up an organisation called Sunshine Orchestra along with KM Music Conservatory in Chennai. "If you type 'World's youngest genius piano player' into Google, a student of mine comes up," shared the singer. "We've performed all over the world. People ask me what keeps you going? And I tell them you need to have challenges; you need to keep making a difference to yourself and to other people around you."




The Express Tribune asked Rahman if he was looking at any collaboration with Pakistan. He responded, "There have always been collaborations; ones with Shiraz Uppal, Nusrat Saab, Zeb Bangash and Haniya Aslam as well – they have beautiful voices."

When asked him how it feels so have acquired so much success in life, Rahman responded thoughtfully. "Every down has the stepping stones of success. Without that you can't have the greatness of success of what you're enjoying now," he said. "The lows have a blessing in it and the highs have a curse also. I try to analyse everything spiritually. I feel that is the real truth. You have to find that in every adversity and every adulation and learn something. The thing is to not lose hope. Life is a cycle…What goes up comes down and vice versa."

In response to another question about which songs he has decided to play at the concert, Rahman laughed and said, "We've been travelling for five or six months so we kind of have a tried and tested formula for which songs we want to keep and which ones we want to leave out."

Have something to add to the story? Share it in the comments below. 
COMMENTS
Comments are moderated and generally will be posted if they are on-topic and not abusive.
For more information, please see our Comments FAQ