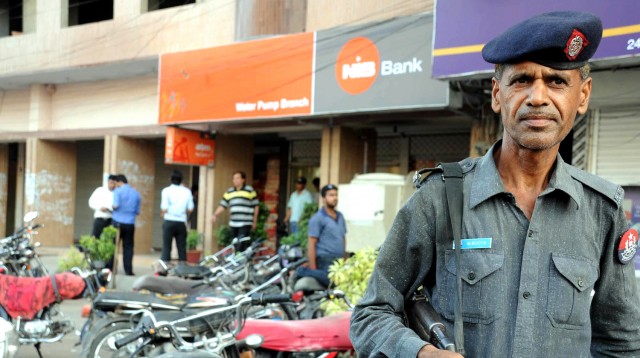 ---
KARACHI: Six men robbed a bank of more than Rs1.5 million in broad daylight Tuesday afternoon, shooting and injuring one security guard when he tried to stop them.

According to the NIB bank manager at Federal B Area, Sajjad Imam, three men entered the bank around 2:35 pm and stole Rs1,538,000 along with the mobile phones of seven staff members. Three robbers stayed outside the bank to keep watch while their accomplices first destroyed the closed-circuit cameras installed in the building. They took away both security guards' weapons and within 15 minutes took off in their car. The injured guard, Faisal, was taken to Abbasi Shaheed Hospital. Police took the other security guard, Abdul Majid, into custody for questioning.

According to DSP Saleem Akhtar Siddiqui, the police is trying to get the CCTV footage before the cameras were broken so that the identities of the criminals could be ascertained. A special investigation team has been formed, he said. An FIR, No 338/10, has been registered against unidentified persons on the complaint of the bank manager. This is the fifth bank robbery of the year. SSP Investigations Naveed Khwaja said that the major reason for such bank robberies is the ineptitude of security guards.

The guards are not alert enough, he said, adding that their weapons are old and ineffective. "These guards are not even allowed by their companies to use these guns," he said. The police have so far been able to arrest those involved in the robbery that occurred at Memon Goth. The Crime Investigation Department (CID) had told media that two of the people involved in that robbery were associated with the banned militant organisation Lashkar-e-Jhangvi. These two men helped fund the organisation through such robberies, the CID had said.

Published in the Express Tribune, May 26th, 2010.