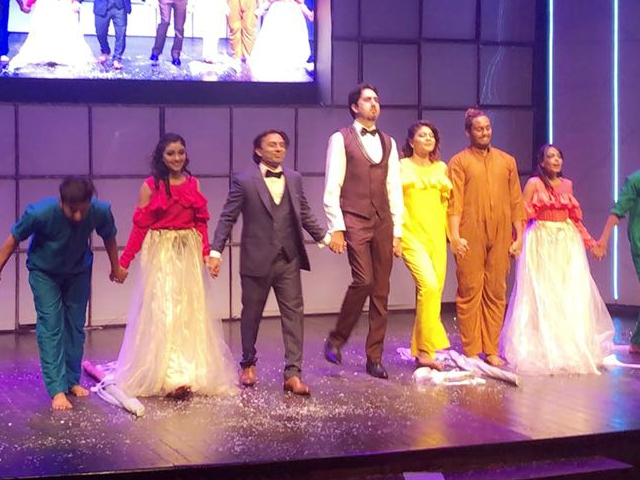 ---
KARACHI: Magic shows have been a part of everyone's childhood but as we grow up, we tend to class these shows as mere tricks people use to fool our naïve selves. Making a rabbit appear out of a top hat or endless rainbow ribbons being pulled out of the magician's pocket are just some of the skits that amazed our young minds. However, with the passage of time, these tricks have evolved into more interesting categories that can be enjoyed by adults and children, alike. (Cue Criss Angel Mindfreak music)

Directed by Usama Qazi, The Fantasists is currently being held at Arts Council, Karachi from January 20 to January 28, 2018. The show promises to astonish its audience with some mesmerising acts by mentalist, Afzaal Afridi and illusionist Munawar Khan.

Coming from a theatre background, Usama returned to the stage with this show after five years. He shared with the audience that he has always wanted a show like this in Pakistan. He also said that he and his team tried getting international performers but that did not prove to be financially feasible for them. He then met Munawar through Afzaal, stating that the former had some amazing skills. Moreover, both of them belonged to Pakistan which would not only be cost-effective but would also promote local talent. Usama added that the show would comprise three different acts – a mentalist and an illusionist followed by a grand finale.




Afzaal was the first to take the stage. He started off with the conventional tricks – making a lit up cigarette disappear right between his fingers. Adding a little humour to his piece, Afzaal linked 'mentalism' to falling in love such that both require the person to be out of his mind. Continuing the rest of his performance, he asked some male volunteers from the audience to join him on stage where he read their minds and guessed what they were thinking. To complicate things a little more, he asked a volunteer to read a paragraph from a randomly selected book, only to accurately guess the last word of the paragraph. He then proceeded to make a Rs50 note disappear and managed to turn it into a Rs1000 note. You're now hoping to have him do that to your bank account, aren't you? To up his game a little more, the mentalist requested one of his assistants to get him an orange that he cut right in front of the audience, only to reveal the same Rs50 note he earlier had.

Afzaal then asked for a random couple to join him on stage where he tested their bond by simply touching the husband while the wife felt it without being touched…#CoupleGoals. He then went on to perform an escapology act where he put a blazer back on while being tied in chains. To test out his skills and make sure that all of these volunteers weren't actually part of the team, The Express Tribune sent its own volunteer on stage. Afzaal influenced the mind of the volunteer to always choose the unloaded staple gun and mesmerised everyone when the volunteer managed to leave the stage uninjured. To finish off his act, Afzaal hypnotised a teenage boy from the audience and made him float in mid-air only supported by the edge of a wooden chair.




The next act by illusionist Munawar marked a spectacular entrance. He performed a few card tricks, turned a torn newspaper back to its original form and put sharp blades in a box that later revealed his assistant with all her body parts intact. Adding some comedy to his piece, Munawar asked a volunteer to join him on stage where he would pass a saw through his volunteer's head, uncertain of the beheading. Luckily enough, no blood was spilt and the volunteer survived. Ending his act, the illusionist locked himself into a box which later revealed his assistant. Out emerged Munawar from the crowd, garnering applause and a standing ovation from the crowd. (MIND = BLOWN)




The grand finale was not very grand though, making the end a little disappointing. While the performances were worth watching, there were quite a few mishaps that occurred – after all, there's no beating to Criss Angel. However, keeping in mind that such shows are still an alien concept to the Pakistani audience, it's definitely something interesting to do this weekend.

Have something to add to the story? Share in the comments below.
COMMENTS
Comments are moderated and generally will be posted if they are on-topic and not abusive.
For more information, please see our Comments FAQ