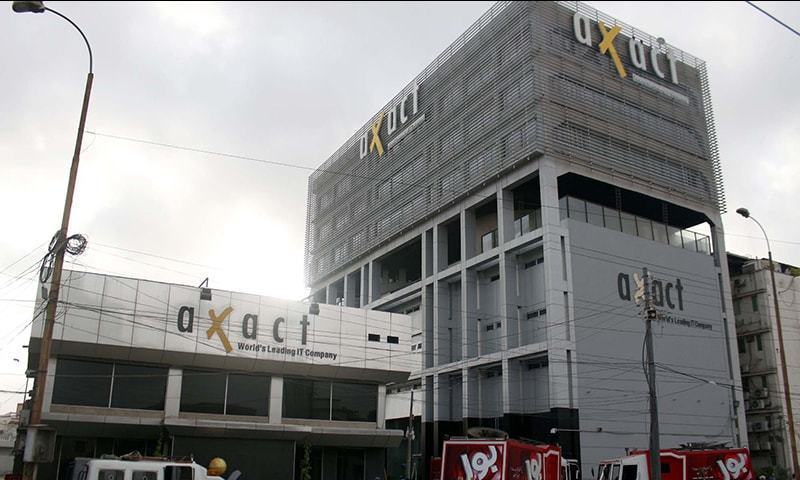 ---
ISLAMABAD: Chief Justice of Pakistan Mian Saqib Nisar has taken suo motu notice of the Axact fake degrees scam which was exposed by the New York Times in 2015 and has been further investigated by the media and courts around the world.

Soon after the hearing of the Katas Raj suo motu case, the chief justice asked Additional Attorney General Waqar Rana which articles of the Constitution emphasised the dignity of a person. The AAGP replied that Articles 9 and 14 focus on this aspect.

Upon this, the chief justice referred to Axact scandal, saying that it embarrassed the country on national and international levels.

Axact fake degree case: Judge confesses to receiving Rs5m bribe to acquit Shoaib Shaikh

"Our heads are hanging in shame," CJP remarked. "Those who caused defamation to Pakistan will not be allowed to walk scot-free," he said. The chief justice also said that if the news reports related to this scandal are true, it needs to be investigated, and if false, Pakistan needs to defend itself.

The CJP then directed the Federal Investigation Agency (FIA) director-general to submit a report on the issue within 10 days. Likewise, the apex court asked the FIA to furnish the complete detail of cases, which are pending in different courts.

During the hearing, the chief justice noted that perhaps, this case has already been in the headlines. The hearing of the case will be fixed soon after the submission of the FIA report.

The Axact scandal surfaced in May 2015 when The New York Times published a report that accused the company of selling fake diplomas and degrees online through hundreds of fictitious universities, making millions of dollars annually. A network of offshore accounts and companies, used to funnel money made from the university websites, were also uncovered in the report.

Axact executive pleads guilty to fraud charges in American court

In May 2015, New York Times reporter Declan Walsh, whose expose uncovered Axact's fake degree empire, also released documents pertaining to his investigations into the IT company's dubious online college websites. They include scans of registration documents for the mailboxes of Belford High School and Belford University in Texas and California, a copy of Axact's internal publication, screen grabs from the school owner's testimony, an image of the location listed as the address for the bogus International Accreditation Organisation and scans of an article in Arab News which linked Axact with fake degrees being sold abroad.

In Pakistan, once the revelations came to light, there was an attempt to shut the massive operation down. In May, hundreds of thousands of degrees, student cards and other incriminating evidence had been found during a raid conducted at an Axact office. On May 27, 2015, the CEO of Axact Shoaib Ahmed Shaikh, along with over a dozen other senior staffers were arrested.  In August 2016, Sindh High Court granted him bail. A former prosecutor, while talking to a private media TV channel, said that the case has been brushed under the rug thanks to poor prosecution, adding that 61 witnesses were dropped without reason. He had relieved himself from the case earlier due to "personal reasons" – a grenade was thrown into his house.

Legal experts believe that it will be a big test for the Supreme Court to determine who had 'influenced' the prosecution, and why significant pieces of evidence were not presented in the trial court.

Later reporting suggested that Axact's empire, already considered one of the biggest Internet scams on record, is even bigger than initially reported. It has been reported in April 2016 that over the past decade, Axact took money from at least 215,000 people in 197 countries — one-third of them from the United States. Sales agents wielded threats and false promises and impersonated government officials, earning the company at least $89 million in its final year of operation.

Fake-diploma mill: US authorities charge Axact official in $140m scam

BBC findings

A recent BBC investigation said that thousands of UK nationals bought fake degrees, doctorates, and professional qualifications from Axact. Despite the common perception that the game operation is over, the company continues to flourish.

The BBC investigation reveals that Axact sold almost 300,000 fake degrees worldwide, with confidential documents stating almost 3,000 as being sold to the British. While their identities have not been exposed, the investigation states many of them "held responsible positions."

The report included incriminating statements from an unnamed former Axact employee.

Axact, in an official response, called the investigation "defamatory", while further condemning the story "for its baseless accusations and for its substandard, nonfactual and fallacious reporting pertaining to maligning and defamatory false accusations."

Axact CEO acquitted in money laundering case

Real fake news

Allen Ezell, a former Federal Bureau of Investigation (FBI) agent who paid close attention to the company, says Axact is "at least a billion dollar operation".

"We live in a credential-conscious society around the world, as long as paper has value, someone will counterfeit and sell it. Plus, employers aren't doing their due diligence in checking out the paper, that's how the business works."

Ezell, in the BBC investigation, sheds light on the origin of the company which was founded in 1997 as an Information Technology company, but as the former FBI agent states, while they did tout the IT banner, Axact offers no IT products and is "simply a ruse".

A look through the university websites, where Axact offers degrees from, shows a similar format; with names such as Brooklyn Park University and Nixon University, the websites feature stock images of students, buildings and even fake news articles. When the BBC investigator asks Ezell about the websites, he says Axact "started using fake news before fake news came into vogue."

"The school doesn't exist. The faculty doesn't exist. The curriculum doesn't exist. They are a master in using social media. They have everything from fake videos to fake press releases. It's all fake. But they're good at it."

In their official response, Axact states the defamatory article "poses a threat to the invaluable IT exports of Pakistan, 65% of which is due to Axact".

Why I left Axact: The inside picture

Extortion

In 2017, US authorities prosecuted a senior Axact employee, Umair Hamid, after he pleaded guilty to charges brought against him for his role in the multi-million dollar fake diploma scheme. Axact, however, claimed that "this particular case was of a personal nature that was wrongfully misquoted with respect to Axact in an attempt to further malign the organisation."

In their investigations, the US authorities revealed that Axact receives almost 5,000 calls a day and raked in more than $130 million. However, the ex-FBI agent states they did not do this solely by selling fake degrees.

"Normally a diploma mill is finished with you when you buy your degree and get your verification to your employer. That's just the beginning with Axact," he said shedding light on the extortion techniques Axact started using once the media spotlight was on them.

The ex-FBI agent admitted that he had never seen something like this in any other operation; he explained that Axact would use their database of clients, who had purchased fake degrees, and through the alteration of caller-id, so it seemed like the call was coming from a local embassy or law enforcement, threaten people.

"They would threaten to deport or arrest you unless you get some additional documents to support the phony diploma you had."

The ex-Axact employee from the BBC story said the organisation realised that in order to keep making money they had to venture into "darker territories."

He told BBC that he, along with a few others, came up with the idea to move into the whole extortion racket, admitting he knew exactly what he was doing. "For me to actually proclaim that I'm on some moral high ground would be untrue," adding that they would exchange high fives and make jokes about people squandering their lives.
COMMENTS (2)
Comments are moderated and generally will be posted if they are on-topic and not abusive.
For more information, please see our Comments FAQ