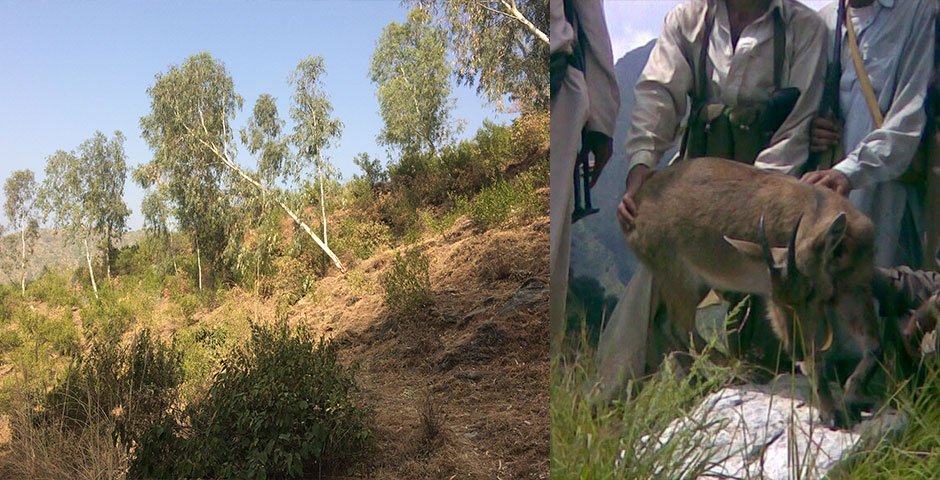 ---
PESHAWAR: Once found in abundance across Buner and the mountains of adjacent Swabi and Mardan, the goral antelope has been hunted to near extinction. It is now found only in small, isolated forests and mountains.

Sultanwas – a small village situated on the road between Pir Baba and Daggar – is famous for being the home of the head of the Aman Lashkar, Syed Ahmad (alias Fatah Khan), who was killed in a suicide attack on November 3, 2012. But is also known for its lone mountain, Charimar, which is one of the last refuges for the goral in Buner.




In 2007, villagers – under the leadership of Fatah Khan – banned all hunting around Charimar, as the number of gorals had fallen to just a few dozen. It was decided that no local or outsider would be allowed to hunt anymore, so as to save these wild animals from complete extinction.

"Fatah was a very successful, well-travelled businessman. One day, a local farmer brought him a [hunted] goral as a gift, but it shocked him, as he thought these wild animals were the beauty of the area," said Muhammad Alam, a nephew of Fatah Khan. "He summoned a jirga of village elders and common people, and put a ban on hunting."

Alam recalled how he once shot a goral with his friend, thinking that his uncle would not object. "I was surprised when he called the wildlife department and asked the officials to book me for illegal hunting, presenting the dead animal as proof. After this incident, I gave up hunting forever."




Fatah's assassination in 2012 was a blow to the wildlife and the mountain he loved so much, as he was also keen on protecting the trees and shrubs found in the mountain. "We continue to keep hunters away from Charimar, but we lack the determination and commitment of the late Fatah Khan," Alam adds.

"The problem is that you need four hours to check the mountain from all sides in a jeep. Sultanwas village is determined to stop hunting, but there are many villages on the other side of the mountain whose inhabitants see no use of banning the hunting, so we have to use force," says Alam. Whenever they hear a gunshot fired in the dead of night, they send armed men towards the mountain to arrest the intruders.

"Unfortunately, we are not representatives of the government and cannot punish those caught hunting illegally in the area, so we have to hand them over to wildlife officials, who only make them pay a nominal fine." Alam believes that the government and wildlife department should hire watchmen and equip them to stop the illegal hunting.




Another local, Samad Khan, mentions that the mountain streams were drying up due to the lack of rainfall in the past two years, forcing the wild animals to move down to the villages, where they are even more vulnerable.

"Farmers have guard dogs which chase these wild goats and sometimes, they are killed. These animals live at the mercy of villagers these days," he informed this correspondent, adding that government should play its role and plant trees in these mountains as well as protect wild animals from poachers and common villagers.




Each winter, local farmers take their goats and cattle to the mountain for grazing, which means further competition for these wild animals, he said, adding that this forces gorals to the peaks of mountains, where they can avoid humans.

Nowshera-born Asad Khan has several friends in Buner and frequently visits the area. He said it was unfortunate that the illegal poaching of goral was prevalent not only in Rustam and Katlang areas of Mardan but across the whole of Buner district.

"Until 2005, leopards were also found in these mountains, but with the decrease in their natural habitat, the animals started killing cattle. This has led local farmers to hunt them to extinction," he said, adding that gorals were hunted illegally because the Wildlife Department had almost no presence in these far-flung areas.

"One of my friends hunted a deer in Jhelum but was caught by the wildlife watchers. He was fined Rs65,000, and as a result, he gave up hunting forever," says Asad. "In Khyber-Pakhtunkhwa, there is no check on hunting. Even if, by chance, you are caught, you will be fined only a few thousand rupees," he added.


COMMENTS (2)
Comments are moderated and generally will be posted if they are on-topic and not abusive.
For more information, please see our Comments FAQ