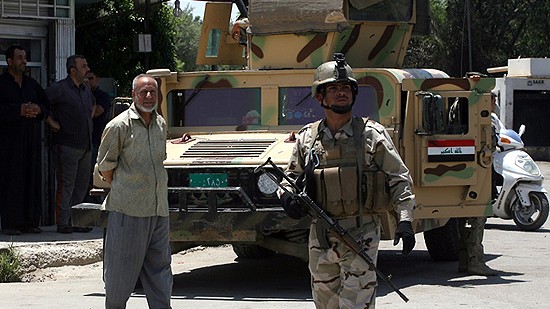 ---
BAGHDAD: Gunmen swooped on Baghdad jewellers in a morning rampage on Tuesday, killing 15 people and bombing almost a dozen stores after robbing them, an interior ministry official said.

The stores in a commercial centre in the Bayaa neighbourhood of southwest Baghdad were robbed by at least 10 gunmen, the official said. The assailants shot the shops' owners, who made up the majority of the victims, and then planted bombs.

"More than 10 gunmen in civilian clothes, carrying silencers and machine guns, entered the centre," said the official, speaking on condition of anonymity. "They threw small plastic bombs into 11 shops to create panic so people would leave. Then they went into the shops, robbed everything, and killed the owners. "Afterwards they ran away -- there were cars waiting for them."

Crime has been on the rise in Iraq as the level of violence has fallen off from its highs in 2006 and 2007. Security officials say insurgent groups may be carrying out the robberies to obtain much-needed income to fund their operations.

In mid-December, Kurdish-speaking robbers in military camouflage entered the largest bank in the northern city of Kirkuk pretending to be hunting a would-be suicide bomber before making off with thousands of dollars.

Eight police guards were killed in a massive bank heist in the Iraqi capital last July.

The pre-dawn raid on a branch of Al-Rafidain bank saw the robbers make off with 3.8 million dollars, but the sum was later recovered.

In Iraq's biggest-ever hold-up, robbers stole 13.5 million dollars from a Rasheed Bank branch in Ramadi, west of Baghdad, in January 2005.
COMMENTS
Comments are moderated and generally will be posted if they are on-topic and not abusive.
For more information, please see our Comments FAQ