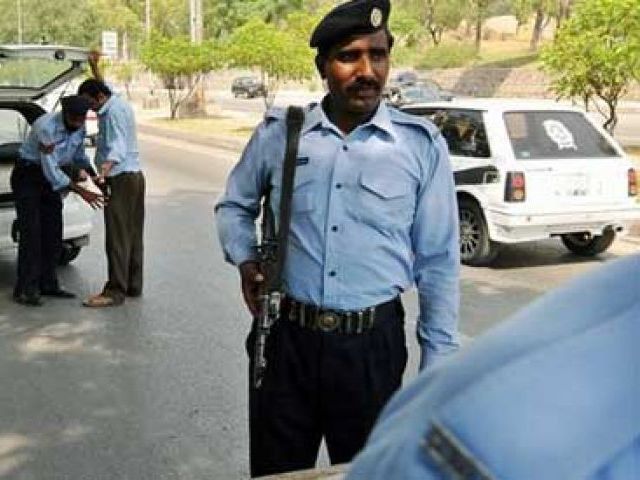 ---
ISLAMABAD: Police in Rawalpindi and Islamabad are arguing as to in whose jurisdiction did a daylight robbery, by armed gunmen, take place.

Armed men, reportedly dressed in army fatigues, allegedly looted currency worth Rs33 million from a money exchanger on the Motorway on Monday evening. The owner of the exchange said that 8-10 gunmen in army uniform looted his money-carrying van near old Islamabad toll plaza on the Motorway.

Sheikh Tasawwar Hussain, owner and director of Sky Exchange, told The Express Tribune that his company's staff were transporting foreign currency from Haripur to Rawalpindi in a van on Monday when at around 6:45pm they were intercepted by three Vigo mini-trucks near the old toll plaza on the Motorway.  Around eight to 10 armed men promptly jumped out and surrounded the van.

National Bank hit by city's first bank heist of 2018

The exchange staff — comprising two guards, a cashier and a driver — mistook the gunmen for army personnel and stopped their car. They even complied with their request of searching their vehicle.

"They were in army uniforms, wore army boots and carried the same guns the military police personnel carry," Hussain explained.

But what happened next gave rise to doubt in the minds of the exchange staff.

The gunmen allegedly took the exchange staff hostage at gunpoint and drove the van towards Hassanabdal. They took away all the cash before stranding the staff at various locations in Hassanabdal.  Later, the money exchange van was found abandoned near the Rashakai interchange in K-P.

Mob justice rules as two robbers are killed

Soon after the incident was reported, officers of the Islamabad Police reached the spot and started an investigation. However, after working for hours at the scene, officers of the Islamabad Police wrapped up and left the scene early on Tuesday, saying that the incident took place in the remits of Rawalpindi police.

However, ever since then, both police departments have denied that the incident took place within their jurisdiction.

SP-Saddar Aamir Khan Niazi of the Islamabad Police said that they discovered that the area fell within the geographical jurisdiction of the Rawalpindi police. He added that the alleged robbery took place a few kilometres before the old Islamabad toll plaza, meaning it was in Rawalpindi.

On the other hand, Rawalpindi police officials rejected this and maintained that the Islamabad Police has a check post near the crime scene signalling their jurisdiction. "Islamabad Police reached the scene soon after the incident on Monday evening and they remained busy there until 3am on Tuesday. Why did they not say this [Rawalpindi police jurisdiction] from the very beginning?" said a Pindi police officer, adding that they had not received any call on in their control room.

Published in The Express Tribune, January 10th, 2018.

 
COMMENTS
Comments are moderated and generally will be posted if they are on-topic and not abusive.
For more information, please see our Comments FAQ