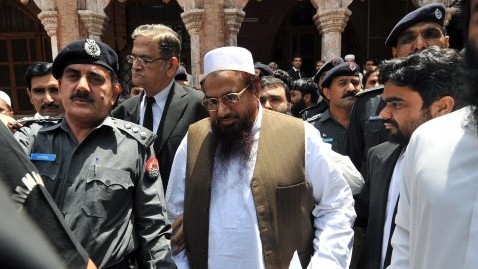 ---
ISLAMABAD: Pakistan's Supreme Court on Tuesday upheld the freedom of a militant leader who was accused of masterminding the Mumbai attacks, dismissing government appeals against his release from house arrest.

Pakistan's central government and Punjab government had challenged the release of Hafiz Mohammad Saeed, founder of Lashkar-e-Taiba (LeT) militant group, by a high court last year.

The three member bench was headed by Justice Nasir ul Mulk and comprised of Justice Jawad S Khwaja and Justice Rehmant Hussain. The court observed that the government had failed to present any proof against Hafiz Saeed and that he could not be held on the bases of speculations.

"The prosecution has failed to prove its case," defence lawyer A K Dogar said.

"We cannot usurp the right of freedom of a person on mere assumption," Dogar quoted a short order from the court as saying.

These appeals were filed by the federal government and the punjab governement against the release of Hafiz Saeed. Hafiz Saeed was arrested in December 2008 after the mumbai attacks and was released by the lahore high court in June 2009. Saeed and three of his charity co-leaders were placed under house arrest and their offices were shut after the UN Security Council blacklisted the organisation as a terror group.

The United States also sees the charity as a terror group and a front for LeT, and Pakistan is under huge Western pressure to round up Dawa members.

The group's founder, Zakiur Rehman Lakhvi, and key operative Zarar Shah are currently on trial in Pakistan.

Dawa, which is one of Pakistan's biggest charities and known across the country for its relief work after the 2005 earthquake in Kashmir, has long denied all terror accusations and welcomed Tuesday's ruling.

"Finally, truth has prevailed," charity spokesman Yahya Mujahid told AFP by telephone.

"The world should realise now that Jamat-ud Dawa is a non-terrorist organisation," he said.

Saeed reportedly abandoned LeT when it was outlawed in Pakistan after India accused the group of being behind a 2001 attack on the Indian parliament which pushed the nuclear rivals to the brink of war.

The group, whose name means "army of the pious," was established in 1989 to fight Indian rule in Kashmir and has past links to both Pakistani intelligence services and Al-Qaeda.