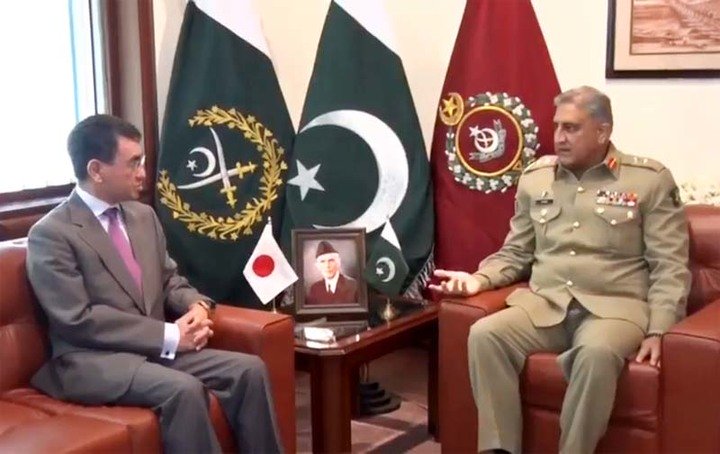 ---
ISLAMABAD: Japan has thrown its weight behind Pakistan by appreciating the 'enormous sacrifices' the country has given in the war against terrorism.

The words of appreciation came from Japanese Foreign Minister Taro Kono on Thursday at a time when the US is questioning Pakistan's credentials as a trustworthy friend.

[/fbvideo]

Kono wrapped up his two-day official trip to Islamabad on Thursday. During his stay, he called on Prime Minister Shahid Khaqan Abbasi, met Army Chief General Qamar Javed Bajwa and held formal talks with his Pakistani counterpart Khawaja Asif.

During his meeting with Asif, the Japanese foreign minister expressed appreciation of the enormous sacrifices made by the people of Pakistan in the fight against terrorism and stressed the need for a coordinated international effort in fighting the menace, according to an official handout from the Foreign Office.

Kono's statement is seen as a significant diplomatic victory for Pakistan in the wake of immense US pressure on its erstwhile ally in the fight against terrorism.

President Donald Trump in his New Year tweet slammed Pakistan for 'lies and deceit'. China, a long-term partner of Pakistan, has already issued a statement in favour of Pakistan.

However, the Japanese move to acknowledge Pakistan's anti-terror efforts means something for Islamabad as Tokyo is a close ally of the US.

Gen Qamar witnesses multinational air exercise in Sargodha

Meanwhile, the foreign ministers of Pakistan and Japan – while noting that the year 2017 marked the 65th Anniversary of the establishment of diplomatic relations between the two countries – expressed satisfaction that the bilateral relations were moving on an upward trajectory.

They noted that the successful convening of a number of institutional dialogue processes covering a wide range of subjects during the last year "clearly reflect the growing breadth and depth of the partnership between Japan and Pakistan – particularly in the economic realm". They further agreed to maintain the momentum in high-level exchanges between the two countries.

The two sides also exchanged views on the evolving peace and security environment in their respective regions and on international issues of mutual interest.

Foreign Minister Asif reiterated Pakistan's commitment to a peaceful, stable and secure Afghanistan and added that it supported an Afghan-led and an Afghan-owned reconciliation process.

He also underscored the need for sustained commitment from the international community during the transformation phase in Afghanistan and agreed to continue working closely in this regard.

He also briefed his Japanese counterpart on Pakistan's efforts to enhance regional connectivity and development with particular reference to the China-Pakistan Economic Corridor (CPEC).

Asif briefed Kono on Pakistan's counterterrorism efforts "that are targeting all terrorists, irrespective of their origin or orientation".

He underscored Pakistan's continued commitment to fighting 'this twin menace'. The Japanese side was also briefed about the Indian atrocities and human rights violations in occupied Jammu and Kashmir and Pakistan's credentials for the membership of the Nuclear Suppliers Group.