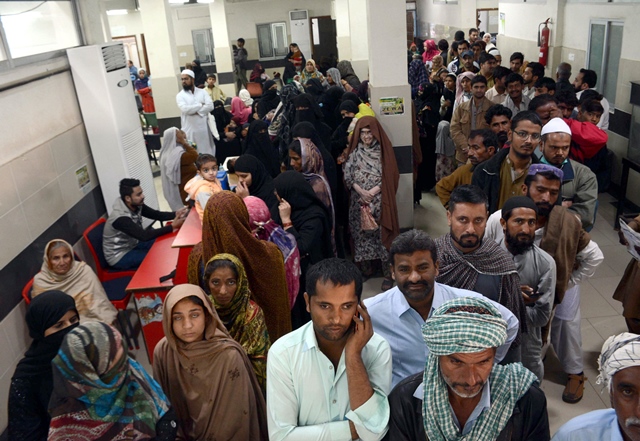 ---
KARACHI: The declaration of emergency to bring about improvements in health and education services notwithstanding, there was hardly any change in 2017 in both the public service sectors.

While health services continued to suffer on account of the shortage of medicine, equipment and staff, the absence of municipal services to clean the city of dirt and filth resulted in people contracting infections and viral diseases.

Heaps of garbage strewn across the city caused a rise in viral infections in Karachi in 2017.

A lack of anti-mosquito spray campaigns by the city government led to a an alarming increase in mosquito-related diseases. Compounding the issue, the government's lack of interest resulted in the medical facilities at government hospitals being reduced, in turn increasing the pressure on private hospitals.

According to one report, there are only 30% facilities available at government hospitals, compared to the 70% available at private hospitals. Instead of increasing and improving facilities at government hospitals, the government has focused on transferring public hospitals to private orgsanisations to operate under public-private partnership.

4,376 doctors appointed in Sindh

The health department confirmed that those government hospitals that were transferred to the private sector showed extremely poor performance. In a majority of government hospitals, there was a lack of medicines and even the simplest of tests were not being conducted.

A year of infections

According to data compiled by Express News, the percentage of people infected with diseases and people who died due to the diseases rose by 20% between 2016 and 2017.

In 2017, the diseases that most affected people of Sindh were dengue, the Congo virus, naegleria,

chikungunya, zika, typhoid and measles.

Three thousand dengue cases were reported in 2017, compared to 2,400 in 2016. The virus claimed three lives in 2016 and this death toll increased to 11 in 2017.

The first case of chikungunya in Karachi came to light in April, 2017 after which 4,800 more people were infected.  In 2016, eight children were diagnosed with polio in Sindh. Fortunately the spread of the disease was moderately controlled through repeated anti-polio campaigns and only two cases were reported in 2017.

Six people died due to naegleria, a deadly brain-eating amoeba, in 2017 while the same number of people died after being infected with the Congo virus during Eidul Azha. Animals were especially at risk of contracting Congo virus and at the large-scale camps set up around Eid to sell sacrificial animals.

Thousands of children were infected by the multi-resistant typhoid in 2017. '

Where's the fire: Health department rushes to rescue its facilities

A lack of fumigation in the city led to thousands being bitten by mosquitos and being infected with dengue and chikungunya. Unfortunately, there were no facilities available at government hospitals for the diagnosis of the diseases, forcing people to visit private hospitals.

Other matters on their mind

In 2017, the provincial health department gave top priority to handing over government hospitals to the private sector. The children's emergency ward and out-patient department Sindh Government Hospital in Korangi No 5 and New Karachi Hospital's telemedicine department were handed over to the private sector.

The regional blood centres established with the help of the German government could not be made operational nor could the proposed thalassemia centres.  In addition to this, five burn centres that were supposed to be established in 2017 remained buried in files.

District government hospitals are suffering from a severe lack of medicines and facilities. The administration of these hospitals adopted a new strategy under the district government under which patients coming to them were directed to other hospitals on the pretext that they had no beds available.

Three angiography machines are not working at the Karachi Institute of Heart Diseases, while only two are working. The solid state relay machine that help open the veins of the heart have been non-functional for two years and its CT angiography machine, which was bought at a cost of Rs120 million, has also been non-operational for two years. The staff required to operate these machines, including the doctor, are not present at the hospital. In addition to this, three echo machines and two ETT machines are also non-functional. An X-ray machine and 20 cardiac monitors are also out of order.

All is not well with hospitals running under public-private partnership

Owing to the condition of the hospital, the number of patients visiting it has declined and those who do visit the hospital are often referred to other institutes. The medicines being provided there are of low quality while unauthorised persons are selling tools to conduct angiographies and angioplasties.

The Karachi Institute of Heart Diseases was inaugurated by ex-city nazim Naimatullah Khan and was also established during his tenure and is managed by the Karachi Metropolitan Corporation (KMC).

Similarly, the supply of medicines and health facilities to patients has also been reduced at Abbasi Shaheed Hospital, another major health facility run by the KMC. Patients coming to the hospital are being sent away with excuses that the hospital is full.

Similar is the situation at the Shah Faisal Cardiac Centre and Sobhraj Maternity Hospital, Gazdarabad Hospital and Rafiqui Shaheed Hospital. Patients coming to these hospitals are faced with difficulties and often turned away.

The Shaheed Mohtarma Benazir Bhutto Trauma Centre established at a cost of Rs6 billion is also not completely functional. Patients coming to the hospital are often asked to bring medicines from outside. Around 110,267 patients were examined at the centre's emergency ward in 2017 but only those sent there on referrals were provided adequate health facilities.

The situation at Jinnah Postgraduate Medical Centre (JPMC) and Civil Hospital, Karach, however, i is better. Around 400,000 patients were treated at JPMC's emergency ward while 1.3 million were treat at its out-patient departments. There were 8,000 casualties at the hospital, 401,119 patients were recorded at Civil Hospital, Karachi's emergency ward. The number of casualties at the hospital was recorded at 2,706.
COMMENTS
Comments are moderated and generally will be posted if they are on-topic and not abusive.
For more information, please see our Comments FAQ