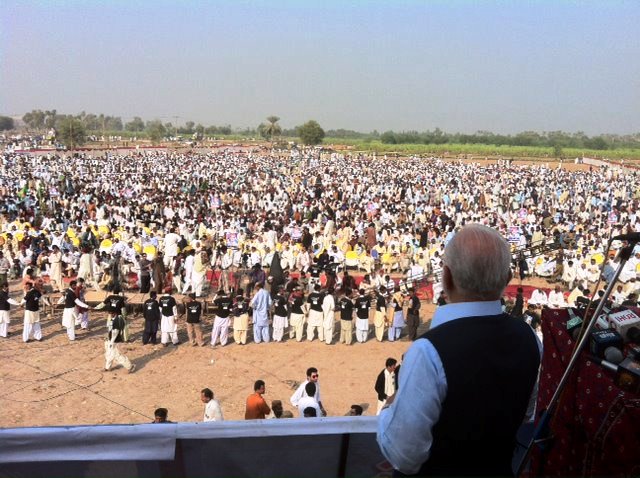 ---
KARACHI: As the general election approaches, pirs (spiritual leaders) have become active in Sindh, mobilising their devotees to play their roles in electing their favoured candidates. Almost all pirs have now become active in provincial politics and have a significant vote bank in constituencies.

Followers of the Ghousia Jamaat, who are also known as 'Multani Faqirs',  are led by Shah Mehmood Qureshi of Pakistan Tehreek-e-Insaf (PTI). The Hur Jamaat is led by Pir Pagara and the Sarwari Jamaat by the Makhdooms of Hala. The pirs of Ranipur in Khairpur Mir and Bharchundi Sharif are among other spiritual leaders who have a following of thousands of people across Sindh.

"Shah Mehmood Qureshi recently spent a week in Umerkot and Thar and visited around 126 villages. Wherever he went, the poor people presented him with donations and gifts bought by selling their animals and other valuables because they feel it is their responsibility to support their spiritual leader who they believe has no other source of income. This practice has continued for years," said AB Arisar, a local journalist. He said that Qureshi accepted all the gifts and directed people to vote for the PTI. "The response was tremendous," he said.

In the last general election, Qureshi, who has a great following in the area, had contested the election from two seats, NA-230 Tharparkar and NA-228 Umerkot. According to Election Commission of Pakistan results, there was tough competition between the Pakistan Peoples Party's (PPP) Pir Noor Muhammad Shah Jeelani and Qureshi in NA-230 where the former secured 61,903 votes while Qureshi secured 59,852 votes. In the second constituency, NA-228, which falls in Umerkot district, PPP's candidate Nawaz Yousaf Talpur secured 99,700 votes against Qureshi who bagged 86,134 votes. "Shah Mehmood Qureshi has attached the most importance to these two constituencies and has started mobilising his 'khalifas' to approach people and make sure the PTI winning in these constituencies," Arisar said. There was a time when the Multani Faqirs used to visit villages and towns to spread the message of Sufism.

Top PML-N leadership mulls future political, legal strategy

Ismail Gopang is a police official from Khairpur Mir who currently lives in Karachi. He is a diehard supporter of the Ranipur Gardi, founded by Pir Abdul Qadir Jilani whose grandson Pir Fazal Shah is a PPP MPA. "Our entire family's vote bank goes to the pir not the PPP," he explained, adding that the Hur Jamaat also has a significant vote in the district but they have always supported the Jilanis.

The Sarwari Jamaat led by the Makhkdooms not only has a vote bank in Hyderabad division but its influence spreads till Achhro Thar (White Desert) and the Nagarparkar district of Tharparkar from where Makhdoom Khalil Zaman has won the provincial assembly seat for the PPP. "Before the general election, the Khalifas of Ghousia Jamaat and Sarwari Jamaat set up their camps in the area. It looks like the actual competition will be between spiritual gadis not parties," said Kashif Bajeer, a local social activist.

The Hur Jamaat has a great following in Sanghar and Khairpur districts. It is the Hur Jamaat that always supports the Pagara-led Pakistan Muslim League - Functional (PML-F), which has now nine members in the Sindh Assembly. The political party's performance is dull, but it always wins the seats with the help of the pir.

Power hungry politicians seeking clash among institutions: Ayaz Sadiq

Sindhi writer and analyst Nisar Khokhar said that due to lack of high-quality education, these pirs have always ruled Sindh and due to their influence they bargain with political parties to get tickets for the provincial and national assemblies. "We live in an agrarian society where this custom has continued for centuries. You can find these pirs in every political party because parities don't work at grass roots level and they are compelled to seek support from the pirs," he said, adding that the pir of Bharchundi Sharif, Mian Mitho, is infamous because of the forced conversion of Hindu girls. He has now joined the PTI and will contest the election on the party's ticket. "Imran Khan has accepted him because of his influence," Khokhar claimed, adding that education and mass mobilisation of people can bring change and get rid of pirs' influence in Sindh.