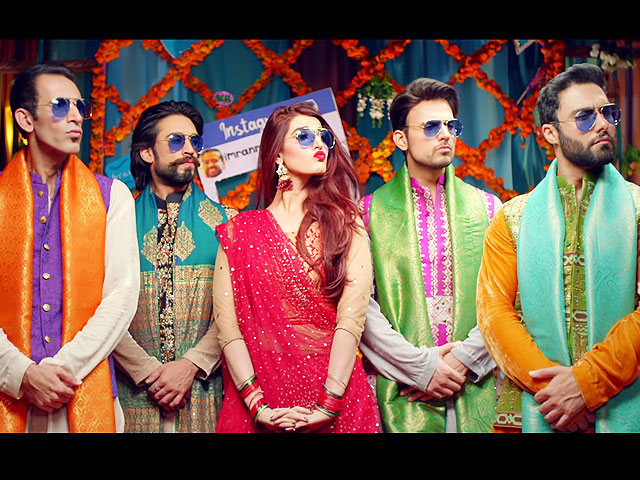 ---
The team that gave hit movies like Siyyah and Jannan to Pakistani cinema has reunited to bring Parchi, another entertaining movie for the people of Pakistan.

Parchi is expected to be released on more than 100 screens across Pakistan on January 5 and the team behind the production is optimistic that this movie will be another blockbuster to grace the reputation of Lollywood.

Along with Pakistan, the movie will be released in various countries including the USA, UK, UAE, Canada and few others countries.

As I dug deep, I came up with some facts about the movie which I am sure will excite the readers.




'Parchi' trailer is out and Hareem Farooq's looks could kill

1. Parchi will be the first Lollywood movie to be released in Saudi Arabia and France

Saudi Arabia has recently allowed screening of movies in the kingdom's  cinemas after a gap of 35 years. After lifting this ban, Parchi releasing on Jan 19, 2018 is going to be the foremost Lollywood movie to be screened in Kingdom of Saudi Arabia, revealed the protagonist of the movie, Hareem Farooq.

In another achievement, Parchi will be the first movie from Lollywood to be screened in cinemas of France, the fashion capital of the world. Parchi will be released in France on Jan 19.

2. Sahara Band become first UK rap band to sing for a Pakistani movie

Sahara Band led by Harvinder Singh alias Herbie Sahara is the first rap band of the UK to sing for a Lollywood movie. They have sung the song Billo Hai for this film. The video of the song has been viewed by more than 1.5 million fans on YouTube and by the time the movie releases, the number of viewers expected to go up manifold.




3. Song Imagine recorded in 30 hours of continuous shooting

Parchi's song, Imagine was shot in 30 hours of continuous shooting. Talking about this song, producer Imaran Raza Kazmi revealed that they planned to shoot the song in two shifts but unfortunately the set created for the song fell down. As the crew was working on tight deadlines, they were left with no option but to complete the shooting in one go.

'Parchi' to be first Pakistani film to hit theatres in Saudi Arabia

4. Parchi's branding visible in Canada

Pakistan's movies are getting accolades globally. This is a positive sign for the future of Lollywood. Parchi's promotion team went a step ahead to create hype of their upcoming venture, as they branded buses in Canada with Parchi's posters.

5. Osman Khalid Butt ventured in choreography

After venturing with acting and writing, Osman Khalid Butt now entered in the field of choreography. He is Parchi's director of choreography and the dance moves done by the team under his tutelage are already getting praised from the cinema lovers and critics.


6. Faiza Saleem to make her Lollywood Debut in Parchi

Comedian Faiza Saleem will also be making her big screen debut in Parchi. Faiza is upbeat about her role and is confident that the learnings she had from this appearance will help her in future ventures.

I lost weight because I started producing: Hareem Farooq

7. The entire movie was shot in only 32 days

Parchi's shooting was completed in 32 days. This is the shortest time in Lollywood history in which a movie's recording was wrapped up. Previously this honour was with Janaan which was made by the same team and its shooting was done in the span of 34 days.




8. 14 new artists from theatre will make their cinema debut through Parchi

Parchi revolves around the situation prevailing in Karachi few years ago, where people from different walks of life use to receive a slip from culprits asking for extortion money. Movie's shooting is done in Islamabad and all the cast members except for Mojiz Hasan are the natives of Islamabad.

Parchi will be the first Lollywood movie to be released in 2018 and it is expected that this movie will play a vital role in the ongoing revival of Pakistan's cinema.

Have something to add to the story? Share it in the comments below. 
COMMENTS
Comments are moderated and generally will be posted if they are on-topic and not abusive.
For more information, please see our Comments FAQ