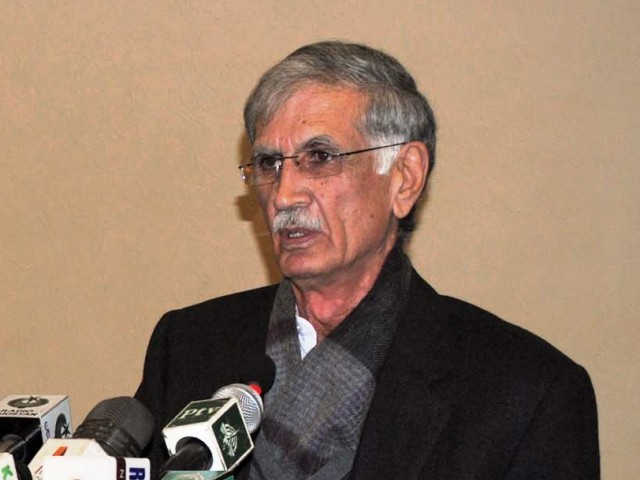 ---
PESHAWAR: In a surprising move, the Khyber-Pakhtunkhwa government has in-principle decided to extend a monthly honorarium to prayer leaders of Jamia Mosques across the province.

The move, which would see Pesh Imams get Rs10,000 as financial support every month, was approved by Khyber-Pakhtunkhwa Chief Minister Pervez Khattak in a meeting at the chief minister house in Peshawar on Tuesday. He further directed the provincial Auqaf Department to prepare a summary in this regard and send it to him for formal approval.

K-P Auqaf Secretary Syed Hidayat Jan told The Express Tribune that the financial support at the moment will only be extended to Jamia mosque imams. Moreover, a committee comprising the District Khateeb, Assistant Commissioner and additional director local government will be constituted at the Tehsil level to determine which mosques in their respective area qualify as Jamia mosques.

"We have asked the district administrations to send us the data of the total number of mosques in their respective districts and a majority of the districts have sent the figures while a few are awaited," Jan said, adding that there are roughly 70,000 mosques of all sects spread across the province while they expect that over 20,000 of these would be Jamia mosques.

Asked to explain what was the difference between a Jamia mosque and a regular mosque, the Auqaf official said it refers to the frequency with which they host Friday prayers.

"By Jamia mosque, we mean a mosque where Jumma (Friday) congregations are properly and regularly held, he stated.

"The Tehsil-level committee will determine whether a mosque fits criteria for the Jamia mosque or not," he added.

Asked what criteria should the Pesh Imam fulfil to be eligible for the honorarium, he detailed that such an Imam must be a degree-holder from any of the five Wafaqul Madaris in the country.

He refuted rumours that the government will subject imams to an exam before paying them the honorarium, noting that the government was not 'recruiting' them, rather it was extending financial support to them for the services they were rendering to society.

Talking about Tuesday's meeting, the secretary said that the chief minister was taking interest in the subject and that this was the fourth meeting they had had on the subject.

Confirming that they CM had told them to draft and forward a summary for approval, Jan said that once the green light is given, they will start the process of establishing the Tehsil-level committees.

With an estimated 20,000 imams of as many mosques in line to benefit from the move, the secretary said that the initiative was expected to cost the government Rs3 billion. 

Published in The Express Tribune, December 27th, 2017.